Picture of the Month
January 2007
Here is this month's picture. We hope to update this feature with a fresh picture every month. Please email us your pictures to feature on this page. Ideally they should be of something special, a special location and your Y, an interesting close up shot of a lesser seen part of a Y that you think will be of help or interest to others, etc.
Please also send a couple of lines of text to go with the picture.

Now here is something you don't see in a Y-Type every day. Ted Evans is currently re-painting his YA in North Queensland (near Airlie Beach) at the moment. He painted the exterior last week and before he got the chance to put the windows back, a pair of Honeyeater birds had started to build a nest attached to the interior light wiring that was left hanging down!
Ted and Margaret have now delayed the re-build for about 3 weeks while the Honeyeaters raise their brood.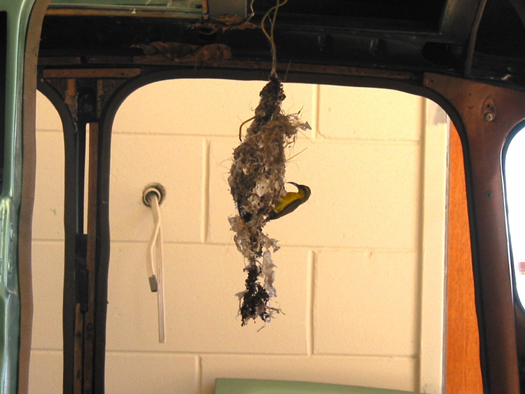 To view previous Pictures of the month, please click on the link below