Picture of the Month
March 2007
Here is this month's picture. We hope to update this feature with a fresh picture every month. Please email us your pictures to feature on this page. Ideally they should be of something special, a special location and your Y, an interesting close up shot of a lesser seen part of a Y that you think will be of help or interest to others, etc.
Please also send a couple of lines of text to go with the picture.

Tony Slattery recently made a visit to a fellow Y-Typer and larger than life character, Werner Kroll. He decided we should get a photo of us all together in his back yard (That is Werner, his wife Barbie, myself and wife Debbie). Yes, that is the fuselage of a DC3 aircraft in the background. Werner likes big toys. He also has a DC3 on a truck chassis that he drives on the road (legally), as well as a couple of Messerschmitt 3-Wheelers, the Y-Saloon, a DS Citroen and is currently building from scratch a one wheeled motorcycle!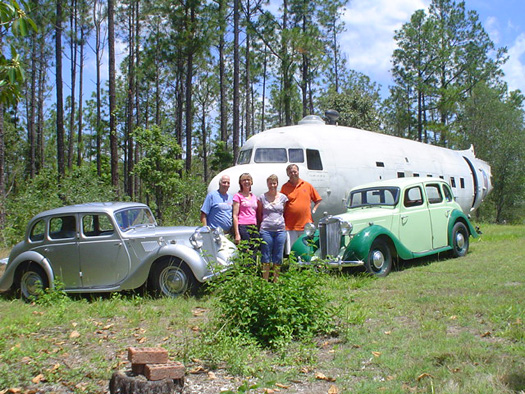 To view previous Pictures of the month, please click on the link below