Picture of the Month
July 2008
Here is this month's picture. We hope to update this feature with a fresh picture every month. Please email us your pictures to feature on this page. Ideally they should be of something special, a special location and your Y, an interesting close up shot of a lesser seen part of a Y that you think will be of help or interest to others, etc.
Please also send a couple of lines of text to go with the picture.

This month's picture is reproduced from the Editorial column of the June Safety Fast and contains a thinly vieled reference to Neil Cairn's Y Type Register June Notes which are reproduced in the Newsletter page. The cartoon is reproduced by kind permission of the MG Car Club, and full copyright for this rests with them, and the artist Alwyn Morgan. I love the rear wash/wipe, joyfully known in the UK Motor Trade as a bedee!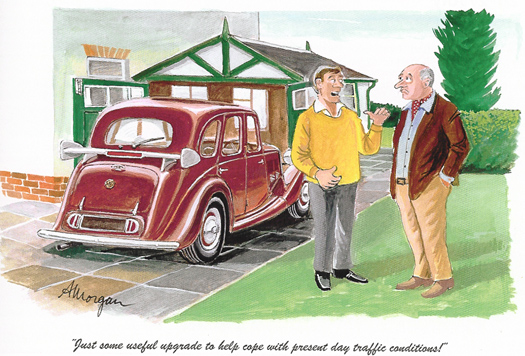 To view previous Pictures of the month, please click on the link below