Picture of the Month
December 2008
Here is this month's picture. We hope to update this feature with a fresh picture every month. Please email us your pictures to feature on this page. Ideally they should be of something special, a special location and your Y, an interesting close up shot of a lesser seen part of a Y that you think will be of help or interest to others, etc.
Please also send a couple of lines of text to go with the picture.

Going one stage further in the Australian guide to restoring a Y, Alf Luckman (foreground) sent in this photograph. The dog looks none too bemused at what has happened to this Y! Alf has suggested a caption competition for this photograph - suggestions welcome. To get you going, Alf starts with the dog saying
"I could have told you the door was stuck!"
"Let us bow our Heads and observe a minute of silence in respect for the Old Girl" - Terry Ciantar
"I told you that you could examine the condition of the inner sill easily on this car!" - Willem van der Veer
"Of course I'll give it a good clean before you take it away" - Peter Sharp
"Wrong dog. You need a Retriever!" - Ted Gardner
"Did anyone see where that snake went?" - Elise Pakeman
"I guarantee it will pass an MOT" - Michael Nicholson
"Don't blame me ... I only cocked my leg on the back wheel" - Barry Grey
"Will you have it ready for Pebble Beach this August?" - Phil Brackpool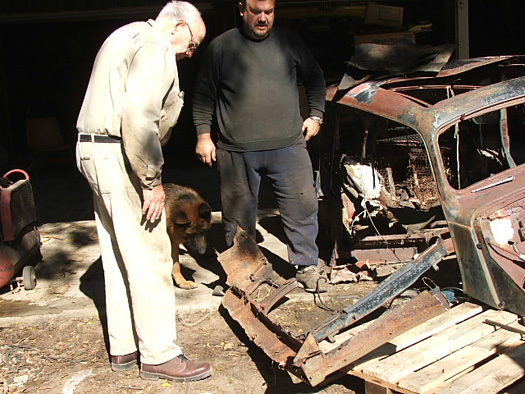 To view previous Pictures of the month, please click on the link below