Picture of the Month
May 2009
Here is this month's picture. We hope to update this feature with a fresh picture every month. Please email us your pictures to feature on this page. Ideally they should be of something special, a special location and your Y, an interesting close up shot of a lesser seen part of a Y that you think will be of help or interest to others, etc.
Please also send a couple of lines of text to go with the picture.

Murray Grainger sent in this photograph of "a shot of the fine cluster of Ys at the 2009 MGs at Brooklands day, today (5 April 2009 ~ Webmaster). To save you getting out the magnifying glasses they are (L to R): GJB 576 belonging to Frances Smith, UML 237 belonging to Peter Arnell, YMG 184 belonging to Paul Davies, LFO 439 belonging to Chris Swale, UMG, 290 belonging to Jack Murray, and ODU 70 belonging to Paul Gresser. Mine was, unfortunately, getting rear brake cylinders fitted so I had to slum it in the LE500."
For anyone who is also interested in old aviation, the aeroplanes are a Hawker Harrier G1 (foreground), and Hawker Hunter T7 (background).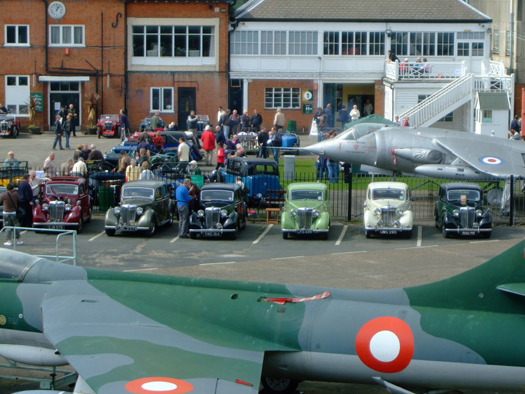 To view previous Pictures of the month, please click on the link below