Picture of the Month
December 2011
Here is this month's picture. We hope to update this feature with a fresh picture every month. Please email us your pictures to feature on this page. Ideally they should be of something special, a special location and your Y, an interesting close up shot of a lesser seen part of a Y that you think will be of help or interest to others, etc.
Please also send a couple of lines of text to go with the picture.

This photograph showing Y1582, provided by Bryan Mellem was taken outside his parents home in Surrey during the very harsh winter of 1963. Bryan recalls that the sea froze along the east coast. The YA was used daily and always started every morning, this was achieved by full choke then depressing the float chamber plunger for 10 ticks of the pump and 2 to 3 pulls of the starting handle. In those times the roads were seldom gritted so one developed a high degree of awareness of the road surface and wheel grip. Cadence braking was essential, that is to bring the wheels up to a point of locking and then releasing them to commence again, and this I must say demanded a strong nerve in an emergency. Cadence braking is something of a fine art. It is possible to get the car to rock back and forwards in its natural spring period so that as the car pitched forward so increasing the front tyre loading maximum braking could be achieved, with practice this could be precipitated in an instant. Its like double de-clutching there was far greater skill to driving then especially before the grip of modern tyres, and ABS.
One other point of interest is my simple but effective de-misters, you will see the bonnet is wedged partly open, the trouble was it took a couple of miles to heat up and de ice the wiper blades.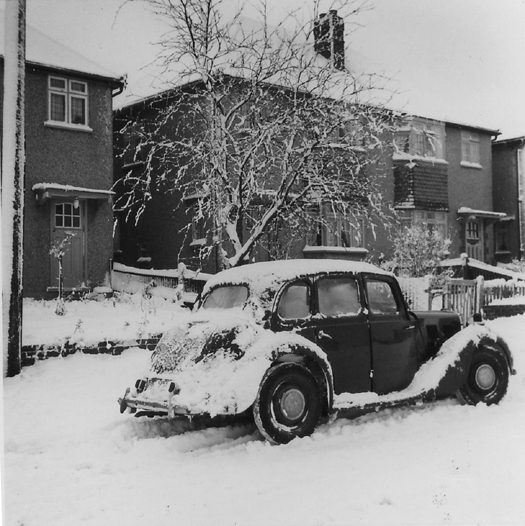 To view previous Pictures of the month, please click on the link below