Picture of the Month
September 2014
Here is this month's picture. We hope to update this feature with a fresh picture every month. Please email us your pictures to feature on this page. Ideally they should be of something special, a special location and your Y, an interesting close up shot of a lesser seen part of a Y that you think will be of help or interest to others, etc.
Please also send a couple of lines of text to go with the picture.
Remembering Tony Stock 6 July 1942 - 29 May 2014
A more recent photo of KLU 387 Y/T EXR 2617, still in regular everyday use in South East Cornwall, (although 1980 cellulose deteriorating more rapidly now), but John Finch did an excellent restoration job 30 years ago, and few problems experienced since our purchase in 2002. Seen leaving the Torpoint Ferry at Devonport on the occasion of MGCC80 celebrations, when D&C Centre shipped 35 MGs across thanks to Bob Slatter's organisation.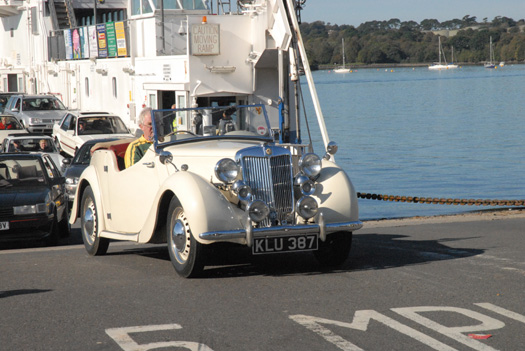 To view previous Pictures of the month, please click on the link below