Picture of the Month
January 2015
Here is this month's picture. We hope to update this feature with a fresh picture every month. Please email us your pictures to feature on this page. Ideally they should be of something special, a special location and your Y, an interesting close up shot of a lesser seen part of a Y that you think will be of help or interest to others, etc.
Please also send a couple of lines of text to go with the picture.

Went over to watch the Flying Heritage Collection's Hawker Hurricane and Supermarine Spitfire fly on their "Battle of Britain" day last Saturday. They ferried the pilots out to the aircraft in this very nice MG YT, which is probably a '49. I guess MG was ready to introduce the "Y" series just before the war when Hitler put the kibosh on that, so it's reasonably appropriate. I think we can all agree the wheels are a sign the owner possesses sublime taste.
The above is a direct quotation from the website this picture featured on originally. Kindly sent in by The Johnson Foundation in January 2011.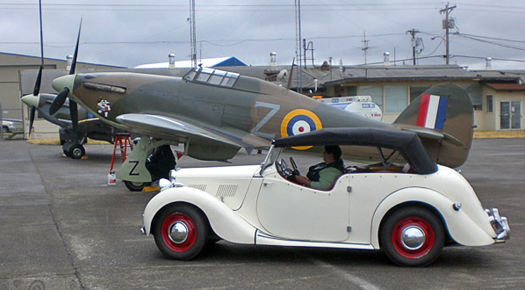 To view previous Pictures of the month, please click on the link below