Picture of the Month
Febuary 2017
Here is this month's picture. We hope to update this feature with a fresh picture every month. Please email us your pictures to feature on this page. Ideally they should be of something special, a special location and your Y, an interesting close up shot of a lesser seen part of a Y that you think will be of help or interest to others, etc.
Please also send a couple of lines of text to go with the picture.

MGCC Lincolnshire's input into National Drive Your Classic Car Day 22 April 2012.
This year the venue was the beautiful Grimsthorpe Castle near Bourne (home of Raymond Mays and BRM) in southern Lincolnshire. Several marques were represented with cars from Jaguar, Aston Martin and Morgan in amongst the entries. There were 75 MGs ranging from 1934 L2 Magna right up to brand new models. However, my YB, VEV 228, aka Sabrina, took first prize in the Pride of Ownership awards. Weather was lousy with heavy rain and a cold wind so I did not bother with taking any pictures myself, but the official club photographer took a few and he has caught Sabrina in a line up against one of the courtyard walls. I have attached photo of car and also of me with very excited daughter receiving rosette.
Mick Bath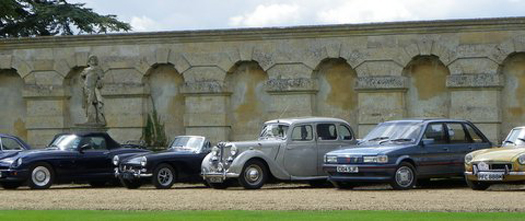 To view previous Pictures of the month, please click on the link below