Picture of the Month
April 2017
Here is this month's picture. We hope to update this feature with a fresh picture every month. Please email us your pictures to feature on this page. Ideally they should be of something special, a special location and your Y, an interesting close up shot of a lesser seen part of a Y that you think will be of help or interest to others, etc.
Please also send a couple of lines of text to go with the picture.

Another good day out for the motorcar at the Lincolnshire Aviation Heritage Centre at East Kirkby, Lincs. This is a fascinating living memorial set up by Fred and Harold Panton in memory of their brother, Christopher, who was killed in action on a bombing raid over Germany in 1944. Christopher owned an MG and the Panton brothers have an annual award for the MG they would most like to own. The whole site is dedicated to the 55000+ aircrew that died in Bomber Command during WW2. As an ex bomber crew chief myself (Vulcan not Lancaster) I have an affinity to those brave lads who gave their all for liberty and freedom. Sabrina was awarded 'MG Car of the Day' by the Panton brothers and also First Prize in the separate MG Car Club pride of ownership show. Two awards on one day! Took camera this time and got a couple of photos on day.
Mick Bath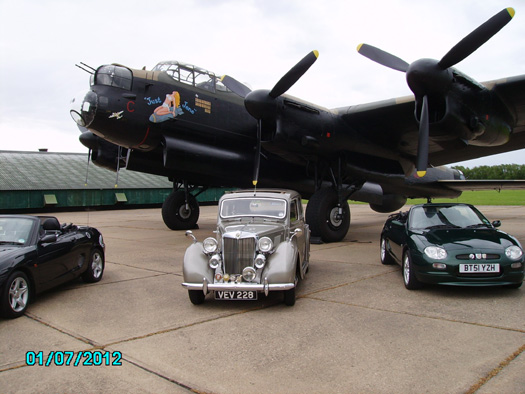 To view previous Pictures of the month, please click on the link below