The M.G. Car Club 'Y' Register Autumn Run 2011 - September 11 2011
By Peter Sharp

The second MGCC Y Type Register Autumn Run took place on Sunday 11th September 2011. Every day of the week leading up to it saw the TV weather men and girls predicting a 'low front appearing over England at the weekend, bringing with it gales and torrential rain', which did depress me a bit. I then did what everyone who ever organises an event in England does, I googled 'weather' twice a day and read every forecast. I read every one so that I could chose the best one to believe in. This did me no good though because they were all dire. But then forecasts of heavy rain turned to heavy rain showers, and then to light showers and then to 'fair all day'.
Well a couple of them did.
The entries for the run hadn't exactly flooded in and even two solid certain participants had withdrawn; one through illness and one because he was becoming a grandfather, for the second time, that weekend. In the end though we had a good dozen entries, plus five 'In Spirit' runners from overseas (more of them later).
The day did dawn bright and clear and we drove to the start, Stondon Motor Museum. There were some early risers there already, two Ys and a Varitone MG ZB. We had two phone calls from MG Z owners who were due to attend; one had broken his arm and couldn't come. The other was going to attend Goodwood Revival the next weekend and his wife needed to buy some seamed stockings. One of the best excuses for lateness I have ever heard.
We toured the museum before we set off. It is not a museum in the normal formal sense, rather a collection of cars, motorbikes, bicycles, trucks and buses housed in what was once a garden centre/nursery. There is even a replica of Captain Cook's Endeavour outside, its masts kept short so as not to impede planes taking off from Henlow airfield.
For those of a certain age the place is bursting with memories. Sunday trips out in Granddad's Morris 10, going on holiday in Dad's BSA three wheeler, the shininess of Uncle Ted's new Standard 10, the smell of early morning fags upstairs on the London Transport RT bus, the first car you bought, the car you learned to drive in; they are all there.
It is a shame the museum is not better known or better funded. In its way the randomness of some of the exhibits reflects British road transport history better than say, Gaydon, because it reflects car ownership rather than vehicle manufacture.
After cups of tea in the little café we started off on the run, another MG ZA arrived to join us just as we left.
The run was sub-titled 'Tour the Mountains and Plains of South Bedfordshire' with tongue in cheek because Bedfordshire is for the most part flat, with a ridge or two running through it. We had planned a route across some of those ridges, to give some good views of what I think is one of the prettiest counties in England. A gentle climb up to Meppershall gave a good view of the imposing church at Shillington and the road to Barton runs along a ridge of the Barton Hills. Sharpenhoe Clappers gave a good test of climbing ability; it's one of those hills that keep going up just when you think you're at the top.
We had found a couple of lanes with grass and mosses growing down the middle, including one that had tunnels of overarching trees and was signed 'Unsuitable for Motor Vehicles'. That's just the sort of challenge we like.
The weather? Well just when it looked as if we were in for a good fair day, the sky darkened and emptied itself. For us it meant getting out the kitchen roll and stemming the leak in the windscreen; for Mike and Sue Silk it meant putting up the hood of their YT before they drowned. Paul Merryweather in the late arriving MG Z helped them put it up quickly.

On the way most of us stopped at 'The Globe', an old pub on the banks of the Grand Union canal outside Linslade. Although we arrived unannounced, we found we had somehow got an empty line of parking spaces to display ourselves in, brightly reflected in rain puddles.

After food and drink and chat, we drove into Leighton Buzzard and the narrow gauge railway at Pages Park.
The railway at Leighton Buzzard is fascinating. It was built in 1919 as a sand carrying line, using war surplus track and equipment from First World War battlefield supply railways. It has been running ever since, latterly as a passenger line only.
Three miles of two-foot narrow gauge track run through housing estates, parks and countryside, crossing roads where traffic is held up by a railwayman with a flag. There were tiny toy-like engines and hefty looking industrial engines, all in steam. We travelled in a closed carriage on the way out and in an open-sided one on the way back. My face and arms were satisfyingly covered with black smuts.
By then the day was getting later and the weather was getting colder and we all said our goodbyes until Jerry's run in the spring.
And no one got lost all day.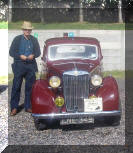 The runners and riders? In the end we had six Y Types; Mike and Sue Silk's YT, Neil and Janet Cairns' YB and four YAs. Very special mention must be made of Ray Knight who came from Wellingborough in the YA that he and his welder Nigel have been rebuilding for years. We have met them at runs in the past, asking questions and having a look to see where everything was supposed to go. We were honoured that Ray chose the Autumn Run for his very first drive out in it. Very good it looked too. It was good also to see Don and Lin Avery from Huntingdon. They came to meet us at Shuttleworth last year just after buying their Y Type in Pembrokeshire so it was good to have them on the run this year. The other YAs belonged to the 1950 MG himself, Murray Grainger and to me. We invited the MG Z register to join us and four planned to come. In the end Paul Merryweather and family and Steve Miller made it. Roger French went straight to Leighton Buzzard but left before I got there, thanks for coming anyway. John Harris broke his arm. Mike and Sue Whitby and Neil McCarthy attended last years Autumn Run in their respective Midget and MGB roadsters but they have both been sold now. They did the run this year together in Mike and Sue's son's Mitsubishi Evo with Neil as passenger; I think they filled the tank twice on the 35 mile run.
I mentioned the 'In Spirit' entries; there were five cars in this class. Larry Brown of Georgia USA said on the bulletin board that if there was an In Spirit class he would be in it, so I created one. Five people entered, I printed pictures of their cars and these were taken in real cars on the run. At the end we took pictures of the pictures being held by the drivers that took them on the run, to prove that we took it seriously.

In the end we decided to award Paul Barrow's Y 5270 the 'In Spirit' Cup for his services to Y Types (now over 500 on Y's on Parade) and for coming the furthest distance. The 'In Spirit' Cup isn't as good as 'spirit in cup' and it is completely virtual, but you can't have everything can you?
Next year? For next year's Autumn Run I will be going round to every Y Type owner south of the Wash and dragging them out personally.

See you all in the Spring.
To enlarge the pictures, double click on them.