Le Tour MG Y Type de Bretagne
(Tour of Brittany) September 2012
By David Pelham
I would like to thank David Hardy, Victor & Evelyne Rodrigues and Brian Moyse for providing me with the excellent photographs contained within this report.
The MG Y Types have a long affinity with the country roads of Normandy and Brittany. I wrote an article 'French Leave' that appeared in the January 1993 edition of MG Enthusiast recalling the inaugural Tour of Brittany in September 1992. At that time I wrote 'it was only later that I considered the potential problems of taking a 41 year old car to Brittany'. I had no inclination at the time that twenty years later, not only would I be taking my MG Y Type to Brittany for the third Tour, but this time I would actually be organising it!
In late 2011 I was talking to my good friend Victor Rodrigues and we recalled both the 1992 and the 2002 Tours in which we both participated, and thought that it would be a good idea to keep the tradition going in 2012. I mentioned at a meeting with fellow UK Y Type owners and the consensus was brilliant idea, you can organise it. The date was fixed for September 2012; the children are back at school, ferry fares a little cheaper and less traffic. I decided to try and replicate the original tour in 1992 and was fortunate to have a copy of the original route by Dennis Doubtfire.
I intended to use the Au Relais du Porhoët hotel in Guilliers as our base hotel; the hotel is family owned by the Courtel family, the same family who provided us with accommodation in 1992. Guilliers is too far to travel (in a Y type) from Caen in a day, so overnight stops were necessary on both the outward and return legs. Whilst I had details of the overnight stops in 1992 and 2002, reports posted by guests on the internet were not favourable and new hotels had to be found. I decided on Domfront on the outward journey and Avranches on the return journey.
I reserved the accommodation in January, the hotel in Guilliers had twelve rooms and consequently we could offer places to a maximum of twelve cars; almost half of those number had already committed when I said I would organise the tour. The other places were quickly reserved by eager participants. Peter Vielvoye and Derrick Newman had already booked on a Tour of the Isle of Wight which conveniently took place the week before departure. Although their tour did not finish until after we departed, arrangements were made for them to catch the overnight ferry and catch up with us at Domfront. Derrick decided that he would bring his TD, which we all agreed was a derivative of a Y Type and therefore qualified without question.
I had been in contact with Andrew Melley who runs a company called Travel Destinations. Andrew organises the MG Owner's Club Travel and was able to obtain some really competitive rates with Brittany Ferries for my party on the Portsmouth Caen Route. The ferries were booked, accommodation at the hotels reserved and deposits paid. It would be another six months before the Tour started so plenty of time for the itinerary and final planning.
I had provisionally mapped out our route, which included the obligatory visit to Pegasus Bridge after disembarking the ferry, then on to Falaise (birthplace of William the Conqueror) for lunch and then to Domfront for our outward stop. Day two would see us travel onwards to Guilliers, stopping at the walled city of Vitre for lunch. Days three and four would be spent in the vicinity of Guilliers with visits to Josselin, the Motor Museum in Loheac and a tour to the Atlantic Coast. On day five we would depart from Guilliers, lunch in Dinan, visit to Mont St Michel before arrival at Avranches. Day six would see us return to Caen for the ferry home, first travelling north to Grand Camp Maisy and then along the Normandy Coast and those famous Landing Beaches where so many monuments have been erected to commemorate those dark days of 1944. During the next few months one couple had to cancel and there place was quickly taken by a French Couple with a Y Tourer. It was great to have 'locals' joining us, together with participants from Switzerland , Holland, Wales and of course the England; a truly "International" gathering of Y Types.
In August with much help from the website 'viamichelin' and my wife checking and double checking the plans, detailed routes were produced. One of my daughter's friends who lives not far from Falaise was also recruited to find a suitable hostelry that could accommodate all of our party and most importantly our cars. The Rally Plates designed by Sara Vielvoye (Peter's daughter) arrived, the Euro continued to weaken against sterling, and everything was set, nothing could go wrong, or could it?
I received a call on the 30th August, just nine days before our planned departure, informing me that Brittany Ferries were withdrawing their 'Fast' ferry service, on which we had been booked, from the 7th September due to a technical fault. This service only operates in the summer so it was being withdrawn early. The options given were to catch a ferry from Poole to Cherbourg at 07:00 the same morning, or to catch the Brittany Ferries day sailing. As a number of our party had booked into hotels in Portsmouth a two hour run to Poole on the motorway was not an attractive proposition. Equally the day sailing left at 08:30 and arrived in Caen at 15:30 another quick motorway dash would be required on the other side of the channel to reach our hotel. There was no option; we would have to take the overnight ferry on the 8th September, the day before our intended departure.
I quickly contacted everybody and almost all were in agreement that we should take the overnight, however cabins were now necessary and added an unwanted additional expense. All twin berth cabins were taken and all that was left were four berth outside cabins. At least we would have a sea view and I congratulated myself on the fact that we hadn't booked the fast ferry back!
I arrived at Portsmouth Ferry Port in plenty of time for departure and noted Neil Cairn's YB far ahead in the queue. We were soon joined by Mike Silk and Jerry Birkbeck in their YTs, Bryan Mellem in his Y Saloon that had recently been restored and was on the road for the first time in twenty years. The tour of Brittany would be a real test of Bryan's preparations. Also joining us was David Hague in his YB. Worthy of note was that David was one of only three veterans of the previous 1992 and 2002 tours. In 1992 his YB was undergoing restoration and he completed the tour in a Cavalier, in 2002 a few weeks before the tour one of his YB's pistons had claustrophobia and wanted to get out of the cylinder; consequently his MGB was taken to France, but now yes David, Barbara and YB were all eventually going to Brittany!
I gave out the Tour Packs, containing Rally Plates, Route Maps and most importantly Meerkats that I had obtained to provide insurance against breakdown. Hagerty would get me home in an emergency but I wanted 'peace of mind' for all.

I received a call on my mobile from Peter Sharp, organiser of the U.K. MG Y Type Autumn Runs, who asked that the2012 Brittany Tour should also be considered as the Autumn Run this year. Peter had fuel pump problems and had summoned assistance. He wouldn't make the overnight ferry but had rebooked on the 08:30 ferry the next day and would accompany Brian Moyse with his YB and catch up with us at Domfront. I managed to negotiate our own lane at Portsmouth and once on the ferry we had 'Pole Position', (see photograph). I felt quite comfortable if any of the Ys wouldn't start then there would be plenty of people behind us to push!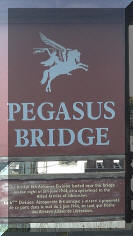 We arrived on time at Ouistreham (Caen) and were quickly off the ferry, we had arranged to all meet up at the first opportunity to park up. However, it was still dark and most of us were still asleep! Pegasus Bridge though was easy to find as many of us had been there before. We were only a short distance away and the instructions were clear, take the third exit on the roundabout. The man in 'pole position' (who shall remain nameless other than it wasn't me) took the first exit! It would have been the third if driving in England as we drive the opposite way round. Bewildered by this strange move we continued over the roundabout and pulled up further along the road, after taking the second exit. We all agreed to go back to the same roundabout and now take the first exit, which would have been our third when we first approached it. Simple but a few minutes later there were just three of us at Pegasus Bridge, somehow the other managed to get involved with a queue for a Boot Sale (an outdoor jumble sale). This was the first 'dispersal' operation and eventually all cars made the first checkpoint.
At first it looked as if we would take a few photographs and then set off for Falaise but our presence was spotted by Madame Arlette Gondrée the owner of the Café Gondreé who opened the café for us at a ridiculously early hour on a Sunday morning. Arlette was a small child aged about 4 years old when the Allied Troops landed on the 5th June 1944, the Café, her parents house was the first house liberated in France that day. How appropriate for our party to share coffee, croissants and pastries with her. The Café also doubles up as a museum and is a must for anybody visiting the area.
We then set off for Falaise after agreeing to meet at the Castle Car Park (checkpoint 2) at 11:45. My daughter's friend Pauline who lives near Falaise had booked us into a restaurant adjacent to the river at Pont d'Ouilly. Our instructions were to be there by 12:30 at the latest as it was a very popular restaurant. As we drove into Pont d'Ouilly we were greeted by Victor and Evelyne Rodrigues, who had taken three days to travel just under 600 miles to join us. We now had seven cars and fourteen of us sat down to a well deserved lunch. The food was excellent, the company first class and believe it we needed shade from the sun.

Pont d'Ouilly is on the road from Falaise to Domfront and the cancellation of the Fast Ferry necessitated a change of plan; the original lunch time stop would have been Falaise but the L' Océan Restaurant and the location was superior. It should have been a short drive to the Hôtel de France in Domfront. It was a relatively short drive to Domfront but the hotel could not be found. I suppose the address 'Rue de Mont St Michel' contained a hidden clue but one that was at first not obvious. After seeing the sights of Domfront, several times we resorted to the Sat Nav, a little device that was not around when our earlier Brittany Tours took place. The Sat Nav was great it took us to the centre of the town so we could look at the scenery we missed on the first three passes. Eventually as the person starting out in Pole Position we arrived at the Hôtel de France, it was on the main road to Mont St Michel, (in the Notre Dame area of the town). You see the clues were there! Brian and Peter Sharp joined us later and we were able to show the locals no less than 9 Y types (7 saloons and 2 Tourers) in the car park.

I had planned to depart from Domfront soon after 'petit déjeuner' but we had to wait for Peter Vielvoye and Derrick Newman who were on the Sunday night overnight ferry. The time was getting on so I decided to phone them as they should have arrived by now. I was informed that they were in Domfront but couldn't find the hotel "déjà vu". With the benefit of experience, I told them to find the road to Mont St Michel and all would be revealed. Indeed about 5 minutes late we were reunited and set off for Vitre, our lunchtime stop on the way to Guilliers. Once again my car had 'Pole Position' but driver and navigator roles were reversed, my friend David Hardy took over the steering wheel while I took over the maps and route book. I was to learn (as David had experienced the previous day) that French Road signs have a habit of totally disappearing when in towns and either the roads are renamed frequently, or the Michelin Maps are updated less frequently. Anyway, our marriages were not at stake since both of our wives were at home and completely oblivious to the pressure that we faced. We stopped at the first garage in a small village and it must have been like Christmas for the proprietor, with only two pumps and eleven MGs filling up. It's amazing how long this takes and probably used another 30 minutes of what was already a very tight schedule.

Once refuelled we said 'au revoir' to the locals who had turned out to say 'bon jour' to our cars and once more Vitre became our target. On the way I received a call on my mobile from Henri Hebels, who with his wife Marlies had decided to meet up with us at Vitre; they were already there and wanted to know when we would arrive. Henri had taken the long route from Eindhoven in Holland to join us. They had travelled to England to visit the Beaulieu Autojumble (why this was organised on the same day as our tour departed nobody knows) and then taken the ferry from Portsmouth to St Malo and come 'cross-country'. Monday is market day in Vitre and it was impossible to park anywhere, however as we approached Henri waved at us and directed us to the railway station where, after another round of 'dispersal', it was necessary to park up all the cars. It was not possible to find a restaurant to accommodate the swelling numbers as there were now 22 of us, so everybody went off in small groups to 'refuel'. It was agreed to meet back at the station car park at approximately 14:00.
We were all there as planned and observed it was possible to track the route of Jerry Birkbeck's YT, in a similar manner to following a slug's route in the early hours of the morning! It's true the trail was oil, not slime, but nevertheless the exact movement could not be questioned. Jerry's bonnet was soon up and David Hardy and Neil Cairns were investigating. The problem was soon identified the Rocker Box gasket had twisted at one end and oil was liberally being sprayed everywhere! A good clean and some well applied grease soon sorted the problem. A later than planned start but we were off once more. Although the convoy made good formation for most of the journey, at Guer, about twenty miles from our destination I managed to take a wrong turning (again) with two other cars taking the D134 south instead of north. This delayed our arrival in Guilliers but upon arrival I was complimented on the fact that I played both 'Pole' and 'Sweeper' positions, something that many could not fathom out! When we arrived at the hotel many had taken up residence on the lawn and said that the hotel was closed; well actually it was open, in that it was unlocked but nobody was there. It was at this point the first stages of panic arrived. When booking I was informed that the restaurant was closed on Mondays, although I had been able to negotiate that as we had taken all the accommodation they would open it for us. A little later Franck, the owner's son and chef arrived and served us with numerous bottles of beer, wine and other drinks. This would prove to be a nightmare in accounting for on the penultimate day of our stay, when invoices were being prepared. Franck also had a good sense of humour, whereby he told Evelyne and me that no one told him that we were coming and so he had no food! I was much relieved when I found out he was joking, although it was a most convincing performance.
We were joined at Guilliers by Michel and Martine LeGoube; it was ironic that our YT Owners joining us from France were the only ones whose Y type didn't make it. Their YT had suffered from electrical problems the previous weekend and had been left at home. Nevertheless it was great to have them with us and although it was planned to have thirteen (Y Types) cars we now had twelve, perhaps a luckier number than thirteen. As we were all together I took the opportunity of handing out the 2012 Brittany Tour quiz. This consisted of 100 questions where the answer was a make and model of car ranging from the 1920s to the modern day. Questions were a mix of general knowledge, cryptic clues and anagrams. Answers would be revealed 48 hours later at the final dinner at Guilliers.
The Courtel family had kindly provided a separate room for dinner each evening for our party. This enabled various people to 'take the floor' when they felt the need. It also gave me a platform to discuss the timetable for the next day. Michel Legoube had offered to organise a tour to the Atlantic Coast several weeks before we departed. I had quickly taken Michel up on his kind offer, he was a local and his knowledge of the area was better than having our own tour guide. Various plans were drawn up and options given to all.

A number of our party wanted a quiet morning and then planned to visit the Manoir de l'Automobile at Loheac, about 30 miles from our base camp in Guilliers after lunch. The rest of us had decided to visit Josselin a medieval town about thirty minutes drive from Guilliers and then make our way to Loheac later. I also had an ulterior motive in that only Victor's Y type and my own car had participated in the three consecutive Brittany tours. It had become a tradition to park the cars in the town square and take photographs. I had managed this in 1992, in 2002 and I wanted another photograph in 2012. We set off for Josselin accompanied by Victor and Evelyne, David and Barbara Hague, and Michel and Martine. I later found out that Michel and Martine had not been to Josselin previously, so I was pleased to show them around.

We initially parked our cars alongside the River Oust, overlooking Josselin Castle. We walked into the old town, taking numerous photographs looking at the spectacular buildings. Then to my horror I found that entry to the square where I had planned to take the photograph of my car was now restricted. The French authorities had installed a bollard in the centre of the road to restrict entrance. However, it was in a down position, which either meant it was broken or would raise if you drove over it. After much discussion we decided it was broken and the opportunity for my third photograph was there for the taking! We all had a coffee, took a few photographs and then set off to collect the cars. I was out in front and was first to pass the ramp; thankfully it stayed put.


We stopped in the square and took even more photographs. The cars caused quite a stir and not only the locals but a few ex-pats had managed to find us. After many photo-calls David Hardy and I set off to find the rest of the group at Loheac, Victor and Evelyn went onto Ploermel, David and Barbara decided to spend the rest of the day in Josselin and Michel and Martine wanted to view the castle, that didn't open until a couple of hours later.
We quickly caught up with the main party in Loheac or should I say we found their cars; after all eight Y types parked together in a small French village was not too difficult. We met up with their owners and went on to the museum. Although predominately filled with French cars, there was a significant amount to see, and one could spend many hours there. There is a fantastic display of Formula 1 cars offering a complete contrast to the historic cars built a hundred years earlier. I was last out of the museum and the others were all waiting for me: some things never change!
| | |
| --- | --- |
| | |

Today was Michel's tour of the Atlantic coast. We calculated that it would be a minimum of 120 miles and six cars committed to the tour, while others opted to visit Josselin and the Resistance Museum instead. Today David my co-driver/navigator and I could have a rest. Michel was in the lead and we were only too happy to follow. We were joined by David and Barbara Hague, Henri and Marlies, Victor and Evelyne, Peter and Gillie Sharp, and Jerry and Jo in their Y-Tourer.


As we had some distance to cover we broke tradition and used some dual carriageway. I think that the cars were all thankful to 'get up speed' whereas most of the journey only 'D' roads were being used. We headed off in the direction of Vannes with a drive around the Golfe du Morbihan, our intended destination. It was an amazing experience and one that would have not been possible without Michel's local knowledge. We stopped in numerous places watching oysters being loaded from local fishing boats and in other places just to admire the scenery. We had lunch in a small village called Pont Navalo on the end of a peninsular. The cars were all parked together and we were assured that the first 30 minutes was free. I always admire the foreign attitude to parking, if anybody asked we had only just arrived.
On the way back we stopped off at Rochefort- en-Terre a very old town designated by the French as a Petite Cité de Caractére. Again for anybody travelling to Brittany a must for the itinerary. Then onward to the hotel at Guilliers to catch up with our colleagues on the day's events. I had asked everybody to gather in the Dining Room thirty minutes before Dinner for the quiz results and 'Prize giving'. The quiz was won by Brian and Kaye, who scored a total of 181 points, closely followed by Mike and Sue with a 179. Although papers were marked by other teams the close score demanded a recount carried out by yours truly. The scores were correct and prizes given out. Another presentation was made to Michel in recognition of his tour to the Atlantic Coast earlier that day.
Another tradition with Y Type Tours in Brittany and in particular at the Au Relais du Porhoët in Guilliers is a photograph of all the cars in front of the hotel, together with the Courtel Family and the Tour participants. This is no mean feat to organise and Brian Moyse, who had the most expensive and professional camera took the Official photographs. After the formalities were complete we said goodbye to Michel and Martine who were returning home and had a Y/T to repair as it was needed for a wedding on the Saturday.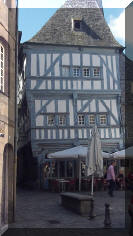 The lunch stop was planned at Dinan, another medieval town. Unusually for us, we arrived on schedule and had two hours for lunch and sightseeing. In fact it is possible to spend several days there and still not see everything. Parking was always going to be a problem but as in Vitre the railway station would be a good bet, so instead of looking for 'Car Park' signs, we looked for 'Gare'. Departure from Dinan was not that easy and the 'dispersal' method was once more adopted more by default than plan! We all set off together but staying together was impossible. Individual routes were used but everybody rejoined the planned route at Dol-de-Bretagne, passing through Pontorson and on to Mont St Michel.

In 1992 and indeed in 2002 it had been possible to drive along the causeway to Mont St Michel. However, in 2009 the French Authorities started construction of a new dam to make Mont St Michel an island again. This also included removal of the causeway and this was completed earlier in 2012. When approaching Mont St Michel you are directed to a Car Park where you pay a fee of €8.50 and you can catch a shuttle bus to visit the Mont. As most of the party had visited the monument previously most of us opted for a few photographs and then continue on to the Croix d'Or hotel in Avranches. Incidentally the first 30 minutes parking was free, so we just used the tickets to exit. I seem to recall the first 30 minutes always being free but they have you behind a barrier at the Mont St Michel Car Park so it truly is half an hour!
Arrival at the hotel in Avranches was straight forward; Henri and Marlies were in the lead and their Dutch Sat Nav was not deterred by being in France. When I booked the hotel in January I was unable to negotiate much of a deal with the owner. I think that I managed a few Euros on the room price and had coffee included with the meals. It was argued that he had no shortage of customers and selling rooms was not a problem. I must say the hotel was stunning, the rooms first class, we were all located overlooking the garden and we had not only secure but in many cases covered parking for the cars too.
At dinner that evening I presented Evelyne with a model of a Bretagne Sailing Boat, a reminder of our trip the previous day. Whenever there was a language issue Evelyne was on hand to translate and I felt this needed recognition. Then it was my turn: I was presented with a Breton Hat, a Breton Tee-shirt and a stick of bread by Peter Vielvoye acknowledging my effort in organising the tour. I must confess a sense of total relief when we arrived at the last hotel earlier that day and found that bookings, meals etc were in accordance with my plans. We had a few 'stiff' drinks in the bar after dinner, not too many as I didn't want to use those 'personal' breathaliser kits that you are now required to carry with you in France.
After breakfast we had a few issues with Peter Sharp's YB. Basically it wouldn't start. Peter removed one of the spark plugs but closer investigation by our mechanical gurus Neil and David Hardy revealed that the points had closed up. Neil set the gap and it fired up and the 'wagons were ready to roll'. We said goodbye to Henri and Marlies who took their leave from us and set off for Holland. It was planned that Victor and Evelyne would drive north with us for about ten miles and then take off for Switzerland. However, first the tanks had to be filled again. Another petrol station would be lucky and have 11 Y Types filling up with fuel.
The drive to Grand Camp Maisy was uneventful and my group had lunch at a restaurant near Omaha Beach. I had said to everybody that we should aim to be at Ouistreham at 15:00 for the 16:30 ferry. The meal took ages to prepare and what should have been a simple journey to the ferry ended up being rather a nightmare. We entered a stretch of single lane road works where we had right of way. However, a stream of traffic coming the other way had completely ignored their red light. We had nowhere to go and it took probably 10 — 15 minutes to sort out the mess. No sooner had we passed the first set of road works than we came upon another: this time we had a coach in front who could not get past a builders' lorry. To compound problems there were more road closures, and diversions going to other closed roads too. In short we just made the ferry port 45 minutes before the ferry was due to depart; they had already started loading. As a side issue I had been conscious throughout the tour of the liberal sprinkling of oil that our XPAG engines leave as their calling card. I noticed at Ouistreham the police and dogs were paying particular attention to the underside of Lorries and coaches. I was relieved that they paid no attention to our Y Types until somebody pointed out that there was little room for stowaways under our cars! Victor and Evelyne had a trouble free run until they were about 220 miles from Zurich when their clutch cable snapped. On the tour both Neil and I had spare cables but these were of little use to Victor on his way home. Eventually a local garage was able to fabricate a 'stop-gap' cable for him and unbelievably this lasted until Victor was less than 100 metres from his house. Was this co-incidence or did the 'Meerkats' that were given to all participants as part of their tour pack keep a watching eye over them?
I thoroughly enjoyed the tour, seeing many old friends being reunited and meeting new friends too. I was pleased that hotels that we booked were all first class and looked after us well. The weather was kind to us and the places visited of great interest. I believe that all who took part will have many happy memories for years to come. It was my pleasure to facilitate the 2012 Tour of Brittany.
Michel LeGoube has kindly offered to organise a Tour of the Loire Valley so perhaps the Y Types will be back in France before too long.