Ripon Old Cars Gathering
9 July 2006
by Andrew Coulson, Photographs by Andrew Coulson and Andrew Adamson
A minor milestone was achieved at this year's Y-type stand at Ripon Old Cars — we had 9 cars on the stand; more than made it to the major Club event at Silverstone! Not only were the numbers up for the third year in a row, but we had every model — and one or two surprises.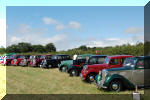 Chassis
number

Owner

Registration

Model

Y 2425

Andrew Coulson

JSL 414

YT

Y 5710

John Arkley

FTP 508

YA

Y 6041

Andrew Adamson

GBX 166

YA

Y 6852

Andrew Coulson

UMG 473

YA

Y 7207

Michael Nicholson

RPE 104

YA

YB 0317

Andrew Coulson

GSL 747

YB pick up

YB 0558

Dennis Greenwood

BCC 337

YB (with mods.)

YB 1018

Brian Arkley

KYS 79

YB

YB 1184

Frank Knox

NUP 587

YB
The weather turned up in most guises — we had hot sun, cooling showers and a firm breeze which eventually removed the Coulson gazebo, leaving the guy ropes in place with neat corners of the canopy at each end! Undefeated, the stand was busy from 10:30 to 16:00 with offers/requests for parts; rebuild stories and the news...
Y 5986 about to reappear
Ray Clapham from Chorley turned up seeking glove box interiors, dashboard chrome and some light switches. His restoration of Y5986 is well under way, having been triggered (unknown to Andrew & Arlene) when he saw UMG 473 parked outside their holiday cottage on Lindisfarne in 2002. He took some pictures, bought a car and is now set to re-launch in time for the 60th!
Dennis Greenwood arrived in his YB, complete with Rolls Royce fog lights in place of standard Y headlights and a five speed Ford Sierra box. He is delighted with how well the car drives now in modern traffic.
Y on the move
Andrew Adamson was making a farewell visit as he has now sold Y6041 to a new Bedfordshire owner. Funny thing is, he's also started talking about which model he will buy for his next Y!
Brian & John Arkley arrived in their outstanding cars, complete with the regular two dogs. (Muriel/Mum has been unwell so couldn't make it — best wishes were sent home for her from the ROC contingent.)
Y triplets doing well
The Coulson stable was shuffled over the previous day to bring all three cars to the show. A starring role for the YB pick up was assured when the remains of the collapsed gazebo needed a (flat)bed in a hurry.
Frank Knox turned up from Stockton on Tees in a lovely YB. He is only the second owner from new, and his extremely original car features the rare BMG plate (on some late YB's). His one 'parts need' was for the face plate of the Jackall pump — which has been sourced, cleaned and sent from the Coulson spares.
Mike Nicholson had saved the gazebo from a first attempted weather destruction when he arrived in Y 7207. The rest of the day he became dealer and fixer for the stand — finding one visitor with a supply of tyres; one with an orphaned prop shaft and a few others with interests in Y's/restorations.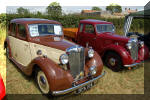 So finally...
Next year is the 60th anniversary of the launch of the Y type. As Ripon is now officially the second biggest Y Register event in the UK ... (unless you know different) how about a mid Summer weekend on 28/29th July 2007?
A Saturday afternoon Dales run; evening BBQ/social — with your car!- on the Coulson estate and Sunday at Ripon Old Cars at their new venue, Ripon Racecourse. Apparently we are now too big for the old site !

Now you see it ...


... Now you don't


YB Pickup with remains of gazebo
To enlarge the pictures, double click on them.