Silverstone 2002
19 - 21 July 2002
Reflections on Silverstone 2002
by Jack Murray
It's now Sunday evening at 8.15 p.m. and I have just sat down at home to cast reflections upon the Silverstone weekend that is almost over. Our webmaster, Paul Barrow, has asked me to write a few words about the event and I thought it best to strike while the iron is hot.
This particular weekend usually begins for me on the previous Wednesday and involves numerous last minute checks and an inventory made of stock that we will take to the event. By Thursday most of this is completed and Paul calls round to load his car ready for the trip up to Silverstone on Friday. I have yet to calculate how Dennis (of Doubtfire fame) managed to load all the stuff into his Y type — including the odd paste table that had seen better days, the kitchen sink and the Register banners! Anyway, we now take the stock there in a modern hatchback.
Friday saw Paul arrive to set up the register stand single handed with Ian Hopkins arriving unexpectedly to offer assistance. I get the impression that despite the hard work, both had a good day.
Friday evening's weather forecast for the Silverstone area on Saturday left much to be desired, particularly after such a promising week — typical. I set off happily from home with wall to wall blue skies heading towards cloud that thickened the closer I got to Northamptonshire. Although I have been going to Silverstone for at least the last dozen years, this is one event that still gets the adrenalin going as I approach the journeys end. The frequency of other M.G.'s on the road increases as I get closer and the friendly acknowledgements (apart from MGF owners — I generalize) adds to the feeling of excitement and the anticipation of an enjoyable weekend.
I arrive comparatively early with the register parking areas filling gradually. So far there are only 3 Y types parked and I head for the main marquee to start my first stint on the register stand. Messrs. Pelham and Barrow have already opened the shop but soon disappear to do their own thing whilst Peter Arnell and myself take up our duties. The marquee gets busier as the morning progresses and our sales are going steadily. We are relieved after a couple of hours by John Edwards and David Pelham, so I head for the trade stalls to search out Y Type consumables such as a rocker cover gasket that isn't banana shaped and doesn't require extensive manipulations to fit properly. (What a brilliant bit of engineering design was that tiny lip at the base of the rocker cover! Am I alone in this or has anyone else re-assembled this joint only to find oil flowing freely from around this seal?) Other 'consumables' on my list include new points, one large and three small core plugs. They haven't leaked properly yet but I spotted a rusty dribble running down the side of the block recently so this purchase falls into the category of 'just in case'.
I managed to get all the little bits and pieces on my list but also end up buying a huge pack of 35 amp fuses. (Goodness knows why as I've not had one blow in nine years but they were cheap and seemed like a good buy at the time.)
On my way back to do my second stint on the Register stand, I took in a bit of racing and snatched a toasted sandwich. I fancied a hot dog but Silverstone catering seems to have gone rather up market, supplying at least five types of different frothy coffee but few burgers or chips. You can also drink Fosters all day but not a sign of Old Speckled Hen. I passed the Y parking area on the way back and was rather disappointed to find only five Y Types in place.
We finally rounded off the day, shut up shop and set off for our various destinations thankful that the weatherman had got it wrong again.
Today (Sunday) dawned cloudy and my wife, Mollie came along to keep me company and to help Andrew Gilham and I man the stall for the first period. She reckons the women make better sale persons in this environment as we (men) are always stopping to talk about cars!!!!! What can I say?
Peter, David and Barbara Hague put in a quick appearance before they had to leave to judge the Y Concours entrants. Oh dear, it appears yet again that there are no Y Types to judge in either the Concours or Pride of Ownership classes. Perhaps there will be next year, although it seems that we are of a breed that prefers a more informal approach that doesn't involve carrying complete valeting and polishing kits amongst our spares.
David and Barbara duly arrived to take over the stall and David Lawrence appeared to help out and sign copies of his book and its new supplement. In the meantime, I nipped over to the Y parking area and was pleased to discover eleven cars - much better - and took a few photographs of the echelon formation, closely resembling the Red Arrows on a bad day.
The rest of the day is mine to make sure that I haven't missed any bargains, have a look at the M.G.s for sale, check out a bit of racing, and go for a relaxing cup of triple foamed chocolate topped cappuccino which is really not the best choice for someone with a full set of whiskers. We also took the opportunity to wander round the paddock and the pits like seasoned F1 fans.
On our way back to the marquee to prepare for packing up the stall for the journey home, we looked in on a small display of historic racing M.G.s. As ever, just when you line up the camera and get focused, the world and his wife arrive to stand just in frame.
On arrival at the marquee, we were greeted by Ian McHardy-Young and Neil Cairns who were manning the outpost and repelling squatters. Within a short time and with the help of the rest of the committee who were present, the stall was efficiently dismantled and packed away for another year.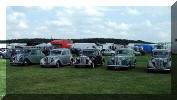 I have said little, if anything, so far about the best bit of any Silverstone event - meeting you - other Y owners and enthusiasts. As far as I see it, the point of the whole weekend is for us to try to provide you with some kind of service / focus/ meeting point. The opportunity to renew old acquaintances, make new ones, offer advice, help or provide a shoulder to cry on is what we should be all about. Over the two days, I met many people who I enjoyed spending time with and who make the Silverstone weekend what it is. Our journey home culminated in a common sighting these days, two hot air balloons flying low overhead; a sight that is to me becoming synonymous with the end of a good M.G. day out.