Y 0836 — MG Y Type Special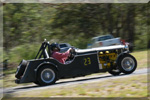 I built a 6-Cylinder Wolseley powered Y Type special (Y4608) some 20 years ago and have been entering it in Club level and Vintage sports car Hill climbs and sprint events since then with both me and my daughter driving it. My daughter recently married, and her husband has also driven my car in competition events. It had become too awkward for the 3 of us to compete in one car at many events, so a decision was made to build another special. I was lucky to obtain another straight Y Chassis from an MG Car Club Member in Newcastle and have it shipped down to Victoria during the Covid lockdown.
I decided to use the lessons learned in the building of my special and apply them to building a better one this time. In the intervening years the engineering requirements for registration of modified classic and vintage cars in Australia had been radically overhauled and much more stringent rules now need to be met. Things such as a collapsible steering column, dual circuit brakes with front to rear pressure proportioning, installation of turn indicators and Inertia reel seatbelts, along with increased strength requirements for seat foundations, as well as the previous assessment of chassis strength, drivetrain capacity and braking performance to meet the increased power of a bigger engine.
Although the Wolseley 6 was in keeping with the "British" feel and sound of the car it was an expensive proposition to increase performance of the engine given the lack of "Off the Shelf" performance components and, consequently I had to have a lot of custom components such as manifold, pistons, valve train and ignition system custom made. To keep the engine/gearbox package to a reasonable budget but with improved performance the decision was made to use a readily available 3.3 litre 6-cylinder Holden engine and match it to a Tremec T5 gearbox. These engines can produce upward of 300 HP using off the shelf aftermarket parts.
After reviewing our options, we settled on using a high-performance head, a high lift version of a Torana GTR XU1 Camshaft, big bore extractors and triple 1 ¾ inch S.U. Carburetors matched to a modified mechanical advance distributor reprofiled to match the camshaft. This configuration produces a very reliable 225 HP which is 50% more than my previously Modified 2.5 litre Wolseley 6.
| | |
| --- | --- |
| Engine bay with master cylinder reservoirs | Engine Bay, carburettors, exhaust and suspension |
Front suspension and brakes are all MGB with additional telescopic gas dampers, rear axle is a Wolseley 24/80 rear axle on custom rear springs with telescopic gas dampers and a heavy duty panhard rod. A set of 5.5 inch wide, 72 spoke MGC Wheels are fitted using Triumph TR4 splined hubs which bolt straight up to the Wolseley rear axle. Steering uses an MGB Mk1 steering column as the lower half and a custom made certified collapsible column for the upper half, joined using an MGB steering universal joint.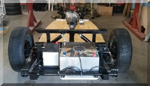 The body was fabricated similarly to my other Y Special, but with the rear of the body extended out to where the original slab style fuel tank was to enclose an aluminium fuel cell inside the bodywork. A custom-made roll bar engineered to mount the inertia reel belts to meet seatbelt mounting strength requirements. Additional steel strengthening had to be added to the chassis to support the roll bar, seats, and lower seat belt fastenings.
| | |
| --- | --- |
| Body frame under construction | Body frame and floors fitted |
| Body frame fitted and party clad | Fabric body covering fitted |
Cost also came into decisions regarding the body finish. Polished alloy like my other Y special was going to cost too much in coachbuilding costs as was a high-quality painted finish, so we decided to apply a modern approach to building a fabric body as we still wanted the old style look of a "Square Rigger" roadster. The body frame was clad in aluminium sheet rivetted and bonded to the frame. It was then faired using body filler and marine grade satin textured vinyl was glued over the bodywork. Careful planning of joins meant that there are only 4 joins on the whole car, two on the rear, partially covered by the spare wheel and one each side of the cowl, level with the bottom edge of the bonnet. These were covered with aluminium trim along with the perimeter edge of the cockpit. An MG grille was impossible to source at any sort of reasonable price, but I was lucky enough to obtain a Riley RMB grille as a swap for a case of beer. Steel cycle guards were fitted all round with the fronts steering with the wheels to reduce the throw up of stones and grit that we get with the fixed guards on my other special.
Once completed, a trip to the certifying engineer, resulting in a 32-page certification document covering all aspects of the vehicle enabling me to obtain a club permit and plates for the vehicle. Then off for Dyno Tuning. First competition event was at Rob Roy Hill climb and was frustrating as we could not get the car to run properly due to over-fueling until the last run, when it produced so much more power that my Son in Law went way too fast and spun it on turn 2. The next event once the tuning issues were resolved was Eddington Sprints where my daughter won Fastest lady driver for the event. We now attend competition events as a 2 car "Y Type special team".
Finished!!

Finished rear end

Finished interior