YB 1170 - Tim Pennicott's MG YB or
"Little Gem" (aptly christened by Suzie Arnell)
The late Tim Pennicott has very generously left his YB to the MG Car Club. After some discussion between The Club and the Y register, The Club has decided to keep her and base her at Kimber House where she will be able to be on view in the new wing. More importantly she is to be driven and a programme of events for her to attend is to be planned. It is hoped that she will make her first official appearance at the Classic Car Show at the NEC latter this month and of course we want to welcome her to our Spring Run next year. It has also been suggested that she might be used to show visitors to Kimber House around Abingdon using the old test routes. Whatever happens we want as many people as possible to be able to enjoy the pleasures of this classic saloon and any suggestions to this end would be very welcome.
In order for all this to happen she needs to be road worthy and safe so Neil Cairns has volunteered to take her under his wing and bring her up to scratch. I am sure you will agree we could not have a better man for the job. Neil is also keeping a diary of Little Gem's journey from her arrival at Kimber House to her appearance at the NEC. You can follow this fascinating tale in "Interesting Y's"
Peter Vielvoye
MG Car Club Y Type Register Chairman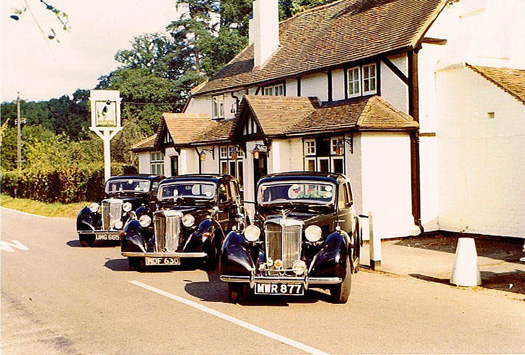 Photo courtesy of David Card - former owner of YB 1170.
This was taken many years ago outside a pub with two other identical cars.
YB 1170 is in the middle.
Diary for MG YB 1170, or 'Little Gem' (Under the wing of Neil.)
A little black MG YB of 1952 vintage was left in the Will of Tim Pennicott to the MG Car Club for its use. The car had been off the road for at least three years going by itslast tax disc. Tim had been working on the car but it was not clear just what he had and had not done, and where he was half way through something. So the Y Register offered to assist Kimber House to get the car sorted out. This was to be completed before the car was taken to the NEC mid-November.
Day One.
This list is the result of the visit to Abingdon by Y Register Committee to see the MG YB. They carried out quite in-depth survey of the car. Tim had done work on it but no one knew where he had got to, what he had done, and what was still to be done.
CAR
EXTERIOR
Rear bumper brackets not original

No over-riders on either back bumper or front bumper

A couple of cracks in paintwork on rear end, drivers side

Back lights working.

Spare wheel locker lid missing its securing chains (key for this resides inside the car on passenger side). Missing clips for housing the starting handle and no wheel brace. No tools and no stirrup pump.

Boot chrome hinges pitted.

Blistering paint work where roof meets the boot.

Both rear back doors paint work blistered on the trim line below the windows. Also chrome handles not good, nor is the passenger door but drivers handle looks new.

Chrome on bonnet catches not very good.

Radiator surround not sitting properly could be due to a dent on top right hand side.

Head lights working but chrome rims pitted. Side lights working. Fog light not wired up.

Period R.A.C. badge.

Period MG Car Club complete with horse shoe presumably for luck?

Starter handle a bit difficult to get into place, could be due to the bracket under the radiator being a bit bent.

New radial tyres (Firestone F560 – 155 x 15 fitted – spare looks like a new radial but was not taken out.

Passenger trafficator works but has a plastic tie round it. Suspect amber arm is broken at its inward end.

Drivers trafficator reluctant to come up fully.

Indicators working ok.

The underside was very clean and without putting it up on a ramp – no rust could be seen, everything looked original and had a thin coat of underseal.

Sills were good.

Jackal system working.

Rubbers around door exterior windows different from standard.
INTERIOR
Demister on dashboard.

Dashboard wood needs re-varnishing.

Duncan Hamilton Plaque on dashboard.

New carpets fitted and felt underlay.

Head lining in two colours, front had been redone, back half discoloured possibly needs renewing – not an easy task.

Sun Visors need covering.

Rear blind needs reattaching.

Windscreen opens and rubbers fine.

Windscreen wipers working.

Dual tone horns working.

Back of drivers seat ashtray missing its handle.

Back of passenger seat coming away?

Passenger seat adjuster not original.

Driver seat adjuster is original.

Both rear door panels lose at the bottom.

Rear door panels splitting at the seam?

Steering wheel needs attention – splitting.

Interior light working.

Handbrake good.
ENGINE
Started on the handle easily.

Oil pressure rose to 50 psi on starting.

Ammeter working.

Petrol gauge working.

Engine very quiet.

No smoke from exhaust.

Starter motor retraction a bit noisy.

Bonnet buffers need replacing.

Petrol pipe to pump needs immediate attention.

Pump is non original.

Bigger carburettor fitted.

Lower steering rubbers perished and need renewing.

Exhaust pipe: front pipe of mild steel and the rest is stainless.

Brakes needs attention – sounds like rivets might be touching the drum on the front brakes.
A good history file which shows the car has done low mileage over the last 20 years or so, the engine was rebuilt by Brown & Gammons in 1988. More recently it appears the carburettors have been rebuilt, new rings and bearings have been fitted, the head has been unleaded and the gearbox checked and found to be good. However, it is possible that the clutch is near the end of its adjustment. There is evidence that the car was re-sprayed in or around 2000.
Most of the above is nit picking and cosmetic but overall it is a very nice original car which is actually in better condition than many we see in regular use and retains many original features which over the years have gone absent without leave from other cars.
Photos of the visit, anyone got a good 'caption' for Jerry Birkbeck trying to start the car?
Day Two.
Then Kimber House decided to get the car MOT'd, but it boiled up its engine after a few miles.
Day Three.
Visit by Neil Cairns on 16 October 2009 to sort out the hot engine and a misfire.
An email from Andy Knott requested assistance on the YB as he had tried to drive it to a garage for an MOT, but the car began to miss-fire and overheated in a short distance. There was obviously a serious problem with the cooling system. My visit found that the following was wrong, and were fixed. (It must be remembered we did not know what was 'good' and what was 'in need of sorting'.)
Ignition lead from the coil to (new) distributor only 'pushed' into the coil. Lead was a 'carbon-string' type and very old. Lead renewed with copper wired HT lead.

All four plug leads in poor condition, all renewed with copper cored HT leads and new plug suppressor caps fitted.

Plug points found wide, reset to .025", very black so cleaned.

Engine run for 15 minutes, found to boil its water!!!

Distributor found to be loose, and could be easily turned, not locked at all. Engine retimed and distributor locked. Ignition found very retarded.

Awful bit of tatty hose connecting the fuel pump to the feed pipe renewed and fitted with jubilee clips.

Choke lead lengthened as far as possible as it was not letting the jet fully rise, so engine ran 'rich'. Cable oiled.

Mixture nut weakened two flats.

Top hose removed and no thermostat found to be fitted. Top hose will need renewing soon and a thermostat fitting.

Engine and radiator flushed with Radflush.

Both washed out with clean water, tap on cylinder block removed and also washed out.

Coolant topped up with antifreeze and tin of Radweld.

Fan belt very loose, and dynamo adjusting bar bent. Bar straightened and belt correctly tensioned.

Fog lamp wired up. Working OK.

Steering wheel cracks filled with plastic filler. Someone has wiped it with a cloth with brake fluid on at some time, surface very pitted.

Carburettor float chamber fuel level checked. OK.

Pipe from pump to carburettor too taught. Repositioned.

Engine run for 15 minutes, temperature appears OK.

New clutch cable fitted, but the adjustment is all wrong, needs sorting.

Suggest a proper (Burlen) fuel pump is fitted.

Headlamps found loose, nuts tightened and beam aligned.
Julian White (MG Car Club General Manager) will try to get the car MOT'd again, and I might take the car on for a week or two to sort out its reliability.
Day Four.

At 06.30am today I had a bit of an 'EURIKA' moment. In the first picture 'XPAG cooling hoses' (taken from my booklet 'Living With the XPAG') you will see the layout of the hoses of the cooling system. Ignore the heater hoses as Little Gem (MG Car Club YB) does not have a heater. Note particularly the Normal by-pass hose'.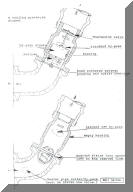 Now look at picture No.2 'XPAG cooling diagram'. Note in the top picture the standard Morris/Nuffield thermostat is fitted. This has a sleeve on it that allows cold water to by-pass the radiator and go straight back into the pump via the by-pass hose. The top of the (rather complex) thermostat is a valve that shuts off water to the radiator. Once the water begins to warm up, the bellows expand and the valve opens to let water up into the radiator. Note that the sleeve moves up to CLOSE OFF THE BY-PASS.
Now, if you remove the thermostat, there is nothing to stop the water continually re-circulating via the by-pass and not going through the radiator! Little Gem has no thermostat so half its water is not going through the radiator. I suspect Tim had had boiling problems and had removed the thermostat in an attempt to cure it.
The lower diagram shows my updated (and much cheaper) fitting of a modern thermostat. This also requires the fitting of a blanking plate over the by-pass exit (with a 3mm/ 1/8" hole in it to relieve air locks). The modern thermostat has to have about 2mm filed off its circumference to fit into the recess of the Morris/Nuffield one.
So, Little Gem was boiling up because its ignition was too retarded AND because the water flow was not going through the radiator. Tim's removal of the thermostat had made things worse.
Quick note to Andy Knott and Julian White - it should be OK just too and from an MOT Station. I will bring a thermostat, blanking plate and new top hose when I collect it for its 'sort-out-running'. If it does get hot, squashing the by-pass hose to stop water getting through will be a very temporary cure.
Day Five.
Little Gem passed her Mot test last Monday (19th October) and is awaiting her road tax, (currently an postal strike is holing up mail.) She did not boil up but it was a cool day and she did not sit in any traffic jams.
Day Six.
I collected the car from the MG Car Club headquarters yesterday about 9.30am. The roads were surprisingly free of traffic, then I remembered it was half-term. 'Little Gem' was not such a little gem on this trip as I found the brakes pulled alarmingly to the right. I thought this might clear with a bit of use but after 12 miles I pulled into a lay-by to check the front tyre pressures as it felt like that. Both front tyres were 28psi. But as the engine idled it began to slow down, then it speeded up, then slowed down and stalled. I though 'fuel vaporisation' but was wrong. The car refused to start. I checked the fuel flow and the float chamber was full. Then I checked the sparks. None. The coil was red hot. I doused the coil in cold water, left it to cool for 20 minutes, and the engine started but was miss-firing. It was running well enough for the next 30 miles though it coughed at low revs a lot. The speedometer needle wobbled between 20-80mph all the way.
Once home I fitted a good s/h coil from my 'stock'. Then I fitted a thermostat, new gaskets and a good s/h top hose. Then I pulled off both front wheel hubs and found the brake cylinders and linings are all brand-new and unused. The n/s lht nut was in poor condition. I chamfered the leading edges of the brake linings and emery-clothed the drums faces, checking all cylinders worked. Then I took it for a run and it ran beautifully for ten minutes. The brake 'pull' was a lot less so I might have to use an old trick and swap a few brakes shoes around. The car did not want to pull from 30mph! It seemed weak-mixtured. I richened it up a little but then decided perhaps the engine was not fully up to running temperature. The car did improve after that! The carburettor is definitely the wrong one, its far too big. Up to about 45mph it seems OK but after that it is running too weak.
Just in case you are non-technical, new brake linings need to bed 'bedded-in' to the drum's diameter. Little Gem's off-side front ones obviously fit well whilst the near-side front are only touching at their leading edge.
Also, I fell out of the drivers seat today...the yellow door edging was falling to bits so I have removed it and fitted the correct 'green felt' edging (from NTG left over from my car.)
Day Seven.
Today I tackled the brakes. I swapped over the rear linings from the nearside and put the front nearside in a back. I found the 'big-nut' that holds the rear brake drum onto the half-shaft splines split!! Yes, it was doing nothing and it crossed my mind that that wheel could have come adrift...it did have a big split pin holding it on though... I tuned the carburettor a bit better as well. I found the rear nearside Jackall jack only hanging on to the rear axle, two bolts were missing. This accounted for the rattle at the rear over sleeping policemen. The radiator surround is not straight and squeaks. I tried to sort it but its mounting is not level (front end bump years ago perhaps?) I eventually got it to sit up against some rubber strip to insulate it from the squeaking bit. There appeared to be a huge oil leak from the front of the engine, that was until I remembered I had oiled the 'squeak' yesterday and it was from my oil can. I adjusted the sunroof slider a bit closer to its runner and this stopped the sun roof banging up and down over sleeping policemen.
Then I gave the whole car a good wax polish and its looks great. I followed this up by a 20 mile run out up into the Chilterns and past Whipsnade Zoo, lots of hills for brake testing. The car ran perfectly. It has the sweetest XPAG engine I have ever heard, not unlike a Wolseley 4/44 I once had that had a new Gold Seal engine (but the Wolseley has lots of sound-deadening in it). If I had to pinch a bit from YB 1170 for my car, it would be the engine. I have yet to sort out the speedo cable, some of the switches, tidy up the wiring and put some Waxoyl onto all the bare rusty metal nuts and bolts under the car. I have 'touched-up' quite a few stone chips on its black paint; it has a white undercoat and it shows easily.
Day Eight.
I've been to my daughter's wedding all weekend (in my '52 green YB as the Wedding Car) so Little Gem has been sulking locked in my garage. But I will take this chance to explain a few things to those non-technical chaps who may be following this tale.
YB 1170 has raised a few questions that I will try to answer;-
Q. Why did the MOT not pick up the pulling brakes?
A. On a (UK) MOT they just bang the pedal to the floor and watch a needle go round a dial. They 'test' the 'full application' not when you 'trial' or 'drag' the brakes. YB 1170's off-side brake linings were fitting the drum nicely, but the near-side only touched at their centres. So one was getting a full area the other a lot less (the cure is to swap around a few brake shoes till you get good sets both sides). Once the brakes were pushed on really 'hard' as in an MOT the drum will distort a little and both brakes will give a 'locked up' reading; i.e. a good reading on the test gauges. In the 'old days' the tester drove the car on the road and would have found the fault at the first brake application.
Q. Is the car really in bad condition?
A. No, its overall condition is excellent. Lots of items on it are brand-new, such as the entire braking system; linings, pipes, hoses and brake cylinders. The engine and gearbox in beautiful; the gearbox is still a bit 'tight' in its gear-change but use will loosen it up. Radial ply tyres seem to have done nil mileage as well. Its worse aspect is its interior, identical to my own even down to its dark green colour and wear patterns. There are a few paint faults and an odd bit of metal bubbling with corrosion underneath. When I polished to car last week it looked fantastic in chrome and black gloss.
Q. The radiator is said to be a bit twisted, why?
A. At some distant time in the past it has had a frontal bump. The forward extension on the nearside, the bit of chassis that the steering gaiter goes through, has a ripple in it. The starting handle guide is also dented making it difficult to put the handle right through. The bolted-on beam that supports the radiator is not quite right making the radiator chrome surround not fit squarely. It binds on one side against the tray under it, causing a 'squeak' when the car goes over a bump. It really is a minor fault and only an anorak like me would spot it.
Q. What is to happen to the car once the MG Car Club finished with it?
A. I do not know. I could guess that they may sell it but only they know at present.
Q. Does it drive OK?
A. It drives very well. Kimber House were surprised how 'modern' it feels. We all know it has IFS and rack and pinion steering with a rigid chassis and lively ohv engine, and superb handling. Others assume it is an old side-valve engined, cart-sprung-axled 1930s car.
Q. What is the little label on the dashboard centre?
A. It is the original supplier of the car, photo to show it below.
Day Nine.
Today it was a very wet and windy one so I decided to try YB 1170 out in the weather. We did a return journey to Newport Pagnell and back, through Milton Keynes, lots of traffic jams and torrential rain. It was a day for one step forwards and two back! The windscreen wipers work OK, as well as any Y type does in heavy rain. The windscreen leaks on the passenger side, but not too badly. There is a big, cold draught from the drivers door somewhere (no heater in this car as there is in mine, and you notice it). There is no seal on the leading edge of the sunroof but it did not leak. The speedometer is 10% fast I noted, no wonder the car seemed faster than mine.
The biggest leak is the boot lid. It has no seal fitted and the rain just flowed into the boot under the top edge lip. The magazines we had put in there for my (aged) mother were drenched. Another job to do. The exhaust is just touching somewhere underneath and hopefully can be adjusted away. The wet weather upset the car as it developed a miss-fire on the return journey which I will have to investigate.
I'm out the next four days, two hours a day as a Royal British Legion Poppy Appeal collector (I'm an ex-RAF chappie you know). I hope to get some of the above sorted by the weekend.
More pictures of YB 1170

Before Tim Pennicott owned the car, it belonged to David Card*

YB 1170 at home with Neil Cairn's regular YB/0332
* The following is a copy of an email we have received from David Card concerning YB 1170 and is reproduced here as it is both relevant and amusing!
This photograph "with MDF in the back ground is in fact my twin brother Peter Card (now the MG Vintage register, Registrar] standing in front of an 18/80 engine in 1974. I sold my car to Tim in the 70s as I needed some thing bigger for work [being a professional clock restorer I just couldn't carry Longcase clocks unless they were small enough to stick though the Sunroof] and then after a while he sold it but found it again by chance, forlorn in a road I think in Plymouth some years ago. Tim had been a very long time friend. and only the weekend before he died we were chatting and he was wanting me to go down to Sidmouth for its first ride out. The car for a few years was very special to me and I have very many fond memory's some of which are printable. In the late 80s? before Tim found the car again an advert was placed in Safety Fast searching for its whereabouts by its first owner who wanted to surprise his wife on their anniversary, Apparently the success of finding the owner came though a friendly policeman. And I believe the then owner from up north came down to London for the occasion. So I suspect the family of the first owner may well have some more photos. I would be most interested in its future progress
Up early this morning to sort out Little Gem as I was to stand in the High Street in the afternoon for the Royal British Legion collecting for poppy-day. I wanted to find the cause of the miss-fire that had raised its head the day before. I cleaned the plugs (again), cleaned the (new) ignition leads, checked all HT leads were secure in their connections, and started the car up. It ran OK but I had noted the miss-fire only appeared once the engine was hot.
So I sorted out the leaking boot lid by putting a temporary seal on. The I found the cause of a rattle underneath, it was an exhaust clamp loose around the tail-pipe. I double checked to see from where it had come, but none were missing. I noted that the lower boot lid edge had two holes in it. Tim had put in little drains for this area that exited under the car via small diameter plastic tubes. I oiled the speedo cable, not easy as it was a huge one and difficult to extract into the engine bay from the dash. The driver's door was difficult to shut unless it was slammed. I found that Tim had fitted nice new chromed door catches, and as usual with after-market bits they did not fit very well. He had already filed about 1/16" off its back edge and I took off another 1/16" before the door would close properly easily.
Then I took the car out for a six mile run. True enough it began to miss-fire after about three miles, especially under load at low revs. So once home I lifted the bonnet and listened to the idle. It was running on three cylinders, picking up on four when revved at about 1500rpm. I took a guess and removed No3 plug lead, and I was right. No 3 cylinder was not firing at idle rpm. I changed the (new) spark plug with no effect. Then I took off the rocker cover to check that maybe a valve was being held down when hot (expansion of the engine bits causing this). Inside the rocker cover was as clean as a clinic, all new with nice clean oil everywhere. All valve tappet gaps were correct, we did not have a receding exhaust valve as sometimes happens on unleaded fuel.
Now, I had fitted new plug leads with new suppressor caps at Kimber House the previous week. Surely they must all be OK? No, No 3 lead was duff, as when I fitted an old one from my pile of 'useful bits' in the garage, the engine ran sweetly once again. Just goes to show that even new bits can fail soon after fitting; it was the new suppressor cap.
I then took off the rear off-side wheel to check brakes and suspension as I had not seen behind this last wheel. It was all in good fettle. Grease oozed from new-looking hand brake cables. New grease oozes from all the front suspension trunions, that also look pretty new as well as do the steering ball joints.
Then I noticed the same clean oil under the engine I had seen last week, and then thought it was oil from my attempts to stop the front-end squeak. Both ends of the engine are bone dry, no leaks (yet) from the crankshaft seals. Eventually I found the leak, to be fixed tomorrow. The oil filter bowl is leaking a little, probably the seal is not seated properly.
As an aside, and because Little Gems 15" wheels look smaller than my 15" wheels, I measured the radii of my cross-ply and its radial-ply from the hub centre to the road. Radial-ply tyres sit a lot lower. My cross-ply are exactly 24 inches; YB 1170 is 23.5 inches. This equates to YB 1170's wheels doing six more revolutions per mile than my YB/0322 as my wheel's circumference is 1.57 inches bigger. Not many people know that!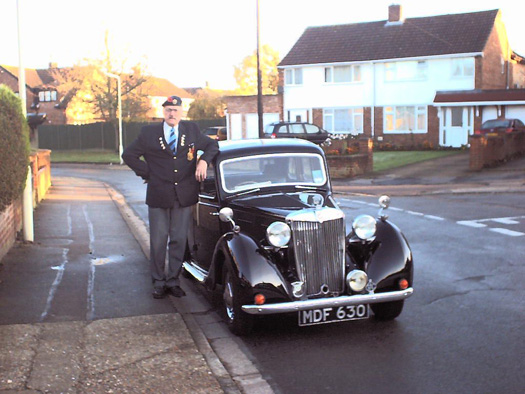 Today's job really lead to the completion of my checks and cures. The car is to be returned on Wednesday 11th Nov and will be off to the NEC on the 12th for display on the MG Car Club stand. I have done little to make the exterior of the car any different/better other than fit a set of s/h wheel rim-belishers to cover up the not-so-good paint on those same wheels. They are my old set and in reasonable condition. It does make the car that bit smarter. Other than that it still looks the 'time-warp-window' it is. I've fixed the interior light so it now works. The rear axle oil seepage around the off-side brake back-plate is just that; a tiny seepage through the gasket. Nothing is coming through onto the brake linings. This was picked up n its Mot. There is a slight oil leak from the front crankshaft seal on the engine but I consider this quite normal for a XPAG engine. The oil filter leak has been fixed. The exhaust touch point I was looking for, that made the interior 'drum' on the overrun, was a loose supporting bolt on the gearbox exhaust bracket. The rather excessive clutch adjustment seems OK as the clutch works well. There is a home-made bracket holding the clutch cable to the side of the engine's sump but it seems strong enough. (The Y Type clutch is cable operated, unlike the almost mechanically identical MG TD/TF which both use rods.) I've tied up the (very big diameter) speedometer cable after oiling it. It was hanging down underneath almost touching the road surface. It seems a big too long for the Y, I wonder if it fits but is from another car? I took it out this morning into the grid-lock of Leighton Buzzard's early morning traffic. This is good for sitting in long queues for hours and hours. The car did not overheat, nor did it miss a beat, or develop any clutch judder (caused by a hot clutch plate when slipped moving slowly in traffic queues). I was at TESCO this morning collecting for the Royal British Legion Poppy Appeal (in my old geezers uniform, RBP pocket badge and medals) and the car got a lot more attention than I did.
So I'll run it about for the next few days and hope all is well.
To those technofobs out there you might like to know things that I could NOT find on this car; there was no oxygen sensor, fuel injectors, catalytic converter, air conditioning, brake servo, power steering, radio/cassette player, windscreen washers, engine management system, computer diagnosis plug behind the gear lever, fifth speed, overdrive, disc brakes, loud speakers, central locking, inertia reel seat belts, dim-dip, sat-nav, automatic choke, hot/cold air intakes for the air filter, in fact no air filter only an air silencer, automatic viscous fan, hydraulic tappets, alternator, or air bags. But it did have an amazing amount of charm and character. Makes you wonder how on earth the poor car can even move without all that modern clutter
A run out this afternoon to Newport Pagnell, a 36 mile return trip. Ran beautifully. I took the car up to about 60mph once hot for a short burst and found there is a body resonance at that speed, but none at 50mph. (Note the speedo reads 10% fast so it indicated 66mph at a real 60. The speedo needle is now firm and no longer wavers about as it did on my collecting the car (20mph to 80mph at all speeds). A wavering needle is usually caused by a dry or sticking speedometer cable. It will 'wind-up' and the 'release' each revolution causing the spinning magnet in the back of the instrument to do the same, rotating in a series of jerks. The poor needle with its tiny hair-spring tries to keep up (the magnet drags an aluminium disc round with it against the spring to give you a reading on the gauge face) but ends up wavering about
It takes a YB about 3 to 4 miles at least for it to heat up the massive grey-cast-iron cylinder block and head and the 8 litres of coolant before the engine will run smoothly. It will need a little 'choke' or mixture enrichment during this time on cold days as well. Your modern Euro-clone (also made in Asia, China and Japan) has an aluminium engine with just 3 litres of coolant to heat up; which it does in about a mile. Cast iron was a cheap metal good for mass-production and with excellent wearing properties for cylinders. The cooling system on a Y is NON-PRESSURISED. It is important to remember that as today we take pressurised system for granted and such a system needs little topping up, if any. An unpressurised system is open to the ambient air pressure. When water gets hot it evaporates, and a Y can loose quite a lot of water in a week just by normal evaporation so the water level in the radiator needs regular checking and topping up. Remember we are dealing with 70 year old technology here. You can remove a Y radiator cap with the engine hot and running, no pressure exists to scald your hands. (It was the M.G. TF and the ZA that were the first M.Gs to have 3psi pressurised cooling systems; today's cars are 15 and 22psi...Why pressurise? You can run the engine hotter as the boiling point of water is raised, and emit evaporation.)

The Y Series was not fitted with a water temperature gauge so many owners fit Calorimeters in the radiator cap. These are really 1920-30s equipment and a bit early for a 1940-50s car but it does give the Lady Driver something to aim the car with...(Photo of Little Gem's calorimeter.) If the needle is central, pointing upwards, the water is at its normal running temperature, as YB1170's now is all the time when running. The dash-board in a Y only has a speedometer with a mileometer and odometer (trip gauge) and an electric clock in it; an oil pressure gauge; a fuel contents gauge; an ammeter as the car has a dynamo not an alternator (where the car would have a voltmeter to give a reading of the battery condition.) An ammeter tells you of the charge or discharge rate of the battery in amps, which can be quite impressive with a heater on, headlamps on, brake lights on and windscreen wipers running. The tiny dynamo cannot cope with all of them so on rotten wet nights you can actually be discharging the battery slowly, which means a difficult morning next day trying to start the car. You modern car owners with your alternators do not know you are born. It is much more of an adventure out in a Y Type!
After the 60mph short run the oil pressure dropped to 35psi at 30mph, as the oil was obviously very hot (therefore thinner). Normally it reaches 50psi upon starting from cold, and settles at about 40psi at 30mph in top gear. Idling at traffic lights, engine hot, it drops to about 10psi as my own YB does.
On the overrun (closed throttle slowing down from speed) there is quite a loud BURR from the exhaust, (a bit like that on the well known Morris 1000.)
The starter Bendix seems to have sorted itself out. It 'dragged' at first but now it is in regular use it is 'throwing out' OK. Modern cars have pre-engaged starter gears that use a solenoid to move into mesh with the flywheel ring-gear before the motor turns the engine over. Good old Mr. Lucas back in the pre 1960 era used the speed of the spinning Bendix gear to 'throw' itself into the stationary starter ring-gear. The speed of the engine once started 'throws' out the Bendix. The gear crashing into the starter ring-gear eventually wears it out, and it was common (and still is on old cars) to remove the flywheel and refit it 90 degrees round (if on a four bolt holding) to present the two 'sides' of the unworn bit of the ring-gear and get another 25,000 miles out of it. (A four cylinder engine always stops in the same two places because of the engine's compression, so the same bit of ring-gear gets the bashing.) You see all the fun you modern M.G. owners are missing? (anyone remember the terrible racket the Mk1 Ford Cortina made once its ring-gear had worn out? You could hear them miles away trying to start the ultra-short-stroke Kent engine.)
I am going to file a little 'nick' in the door key as I have on my own car's set. This makes life a lot easier in the dark as to which key fits the driver's door. Modern cars only have one key; old M.Gs have at least three; door, boot and ignition. Yes, they were all the same when the car was new, but the years intervene to complicate things as bits wear out. (I always said God is a woman, no logic at all.
Upon returning to Leighton Buzzard HQ I checked all the fluids once things had cooled down. I was surprised to find the brake master cylinder, (carefully hidden out of mind and out of sight under the driver's feet, under the floor,) was SILICON fluid. As I have none it was a good job it did not require topping up. (Silicon fluid became popular in classic cars some years ago as it does not absorb water from the air as normal vegetable based brake fluid does [hygroscopic]. It got a bad name for swelling rubber brake cylinder seals unless you renewed the lot and there was no 'old' brake fluid left in the system. Silicon fluid does not seem as 'solid' or 'incompressible' as normal brake fluid either; means more brake pedal movement.)

What would I do to Little Gem if she were mine? I would remove every nut and bolt and apply oil or waxoyl to the threads. The whole car has been assembled 'dry' which will cause problems in years to come when trying to undo them all. I would fit electronic ignition with a solid-state Burlen fuel pump and a heater. I would also re-wire the car with a new loom. The present wiring is all safe but very scruffy, (see photo.
A bit on XPAG oil leaks for the modern car owner. Your Euro-clone-mobile will not normally leak oil as its crankcase is run at below ambient (normal outside) air pressure (so any leaks would be 'inwards') using the low air pressure in the inlet manifold. This is not a good idea on an old engine design like the XPAG because you would consume all the oil in the sump as oil mist, in about 50 miles. A lot of XPAGs leak at their front crankshaft seal because it is actually two bits of asbestos string crushed. This is 'steam-engine' technology from the 19th century (a stuffing gland) but cheap and easy. If you get the 'crush' wrong and do not put sufficient 'string' in, there will be a gap. Oil loves gaps and will make its bid for freedom. There is an advantage to this, it stops the underside of the car from rusting away. The downside is parking on your mates nice new block driveway... The rear seal actually does not exists as a seal. It is three bits of metal bolted up and an oil thrower cast into the rear bearing of the crankshaft. Most of the oil is thrown off by the spinning of the shaft off the 'thrower'. The rest that gets past this is pulled back into the engine by the 'reverse-scroll' seal ground in the crank running in a very close-tolerance space of 0.003". This is real history here as they pulled water up out of the River Nile in ancient times with a similar 'pump', Archimedes Screw I think it was called. I doubt if it had such close tolerances though as it was made of wood. Do you think he gets any fees for the use his patent? (This 'screw' was also used on nearly every other mass-produced car engine in the UK up until the 1980s. It was cheap and worked for the first few thousand miles and is why MGAs and early MGB's also leak.)
Well, having upset the female section of my fan club I'll take a bow until tomorrow.
Some info has arrived about the engine that Brown and Gammon rebuilt. It was done before their current computer records but they did sell Tim a Crane camshaft and a set of push-rods. This is their 'extra-torque' camshaft so this explains why the car pulls much better than mine from 20mph to almost 60 before it tails off. I'm getting 27-29mpg running about this area, part market town-part open country. The local press has shown some interest in the fact I have two identical M.G. saloons, might get a mention in the local newspaper.
Before I forget, the bright ones will have spotted a deliberate error in yesterdays news. The XPAG engine has six bolts in its flywheel so you cannot move it round 90 degree, I was actually explaining what could be done on some cars, (Morris Minor, Austin A40, etc.) MG got clever and fit (off-set) dowels to their flywheels so you have to buy a new ring-gear.
The rear end of YB 1170 sits a good two inches higher than my own YB. Looking underneath there are a nice pair of brand-new rear springs on YB 1170 which accounts for its more spritely stance. It is also lower at the front than mine due to its softer radial-ply tyres.
It was night driving today to see how the car copes in the dark. She has the usual tungsten filament headlamps of about 45w which give an almost yellow light compared to the modern brilliant beams from Mercedes, Audi's and other posh transport. The interior mirror is of the pre-1954 standard, it has no frame (must be framed from that date, stops head injuries being so serious in accidents as the glass is held together when broken) and it is not a dip-mirror either. This means you get blinded from cars behind that do not dip their lights. (Webmaster - this is why there is a rear window blind Neil :-))
It was very cold this evening when I returned and I had to use the choke to start the car. This choke is adjusted correctly and the first half-inch speeds up the idle rpm only; the next half inch pulls down the main jet and enriches the mixture. The ability to 'fast-idle' the engine was useful as the air was colder therefore thicker which dropped the tick-over speed. I could pull out the choke knob and increase it slightly without the choke operating the jet. To the uninitiated who have automatic chokes or fuel injection, the car needs about 3 to 4 miles to warm up the engine which means it can be a bit of a pain at road junctions as it may stall, or 'cough and spit' when you try to accelerate. You juggle the choke to try to keep the mixture right until the thermostat opens and the engine will pull properly. The YB does not have an air filter that can select a hot or cold air intake, you get cold air and have to lump it.
The dip-switch is on the floor in an elderly car like this, you work it with your left foot. There is no main-beam light on the dash so you have no indication you are dazzling anyone in well lit areas so you soon learn the trick of dipping the switch to see if the beam picks up reflective signs ahead: if it does you are on main beam. You either do this, or get frazzled to ashes by an annoyed Mercedes driver who will give you his 150 watts in one hot brilliant blast to blind you, ruining your night vision for the next mile or so.
Tomorrow she goes back to Kimber House. I have not used the car for the past two days, been too busy with my 'railway' job (guard on Sunday then ripping up 10 lengths on Monday ready to relay with new sleepers...) Some have commented upon things I might do to the car. I have just sorted out its reliable running; I have not restored the car so it looks just as it did upon arrival. For instance I have not got the rear blind working but did have to fix the floppy passenger seat's back as it was coming away from the frame. I also put new furry door edging around the driver's door simply because a) I had some left over and b) what was there was dangerous as it tripped me up upon exiting the car; not a good thing if getting out on a busy road. When you see the car at the NEC it will still have lots and lots of faults. The wheels are painted black but with a worn out brush full of grit, so I have put my old rim-bellishers on to hide the mess. The rear near-side door has paint flaking off at its waist-line. The radiator cap is angled a little. There is a bubbling rusty bit on the sill under the driver's door.; and so on and on. My guess is for any private owner who wanted to sort the car so it was really tidy but not concours, there is a good six months work there at least. I've had 14 days! It is not difficult to want to compare it with my own YB. Little Gem is faster, accelerates better 30 to 50, and certainly holds the road better in the wet. I still have cross-ply tyres and my engine has done 85,000 miles with a standard (now no doubt well worn) camshaft.
Finally, a note to those intrepid people at Kimber House from 'Little Gem'.
"Please check my oil (SAE 20/50) and water (with antifreeze) every day you use me. I have a small oil leak from the front crankshaft seal so do not park on any friends new block-paving driveways. Watch my tyre's air pressure as I might not have any tubes inside. If I'm tubeless air will leak out via the rivets that hold the wheel centre to the rim (24psi front 28psi rear.) Remember I have a huge cast-iron engine that takes ages to warm up, especially in a cold winter. I will pop and struggle a bit until my thermostat opens. Try to avoid supermarket petrol and at night be aware I only have a dynamo so switching off my headlamps when stationary at traffic lights helps my battery."
This is the last Diary report as she has gone back to Kimber House today. We set off at 8am in thick wet mist. It was cold and damp and the fact the Y Type has no demister system soon grew obvious. In this car I did not have one of those little sponges with a chamois leather around it to wipe the condensation from inside the windscreen. It was so damp and misty that I had to use the windscreen wipers all the way to Thame and drive on headlamps. I noted how many fools were not using their headlamps as they suddenly grew from a black smudge into a car from the mist ahead. Those with headlamps could be seen much further away. I refuelled the car at Thame as the tank was nearly empty and I assumed YB1170 was to be driven from Abingdon to the NEC in Birmingham. It later transpired she is to be trailered as they are short of drivers. All went well and she ran like clockwork until we crossed the main road that runs from Oxford to Wallingford. Just before Culham all the dials needles dropped to zero, the lights went out and we ground to a silent halt.
We had lost all electrical power. By now the foggy wet mist had lifted so at least other cars could easily see us on the roadside. I tried the horn and it worked. That told me the battery was OK (sometimes the battery terminals come loose and no power gets out, I was testing for this) so power was getting to the fuses. My own '52 YB has the older YA type of control box and fuse holder all in one. This car has the later control box with a separate fuse box that is well hidden under the off-side horn and wiper motor. The control box is obviously new and I assumed the fuse box was as well. But no, it was the original, as when I I pulled the fuse for the ignition side of things, it was covered in green verdigris (yes I known Virdi means green, but I've seen it white as well) and the fuse contacts were also very dull. So with a small screwdriver I scraped away to get some bright brass showing and cleaned the ends of the fuse. Replacing it was awkward as the access was difficult and I dropped it twice...(more swearing).
Once I had it back in place all electrics were up and working again. I am convinced Little Gem did this deliberately as I had not looked at the fuses at all. She was telling me to do the job properly! The car started easily and purred the rest of the way to Abingdon. Once delivered and after an hour of chatting about all things mechanical (and boring my wife to death) and looking at an immaculate ZBV that was visiting, we set off home leaving the car at it new home for the next year or so.
If you are going to the UK National Exhibition Centre (Birmingham, UK) this weekend (13,14,15th Nov) be sure to visit 'Little Gem', she will be pleased to see you.