Trafficator Controls Switch Repair Service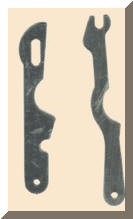 One of the most endearing aspects of the MG Y Type is the clockwork trafficator turn switch. Sadly over the years many of these have broken and ceased to work. In some cases it is simply because the Trafficator Switch Return Spring is broken. Fortunately these are now readily available from Tony Slattery and The Classic Workshop.
However, sometimes it is more complicated and involves intricate work on the actual clockwork mechanism, or the Control arm is missing or broken. Happily, I am now able to offer the possibility of repair and restoration through expert clock and watch repair services and even replacement control arms! These control arms have been carefully and accurately reproduced in ?? in Japan for us to my specification and request by Masaaki Sakaguichi.
Obtaining these switches is becoming increasingly difficult and finding skilled trustworthy people to repair these items is becoming increasingly difficult. You can now relax and stop worrying! All you have to do is send your switch to me at 153, Clemons Road, Montesano, WA 98563, USA and we will inspect and advise on what can be done to get your switch operational again. Because of the scarcity of these items, I would strongly advise packing them in a good sized box, with lots of padding.
Additionally, you should insure (I would suggest $200US or your local currency equivalent) and track your package door to door.
Because of the nature of each clock work control mechanism having multiple complications, it is impossible to give a standard price for repairs as each case will be different. However, all repairs will be estimated before work commences on your switch, and unlike some repairers of vintage equipment out there, you will always only ever get your switch back ... not some one else's one! All items will be returned to you too by insured and tracked services and will be clearly labelled as REPAIR TO ADDRESSEES UNIT and the value of your repair listed, although they will be insured for $200US against loss or damage in transit.
Recent customer comments:
Klaas Stuvier - The Netherlands: I know Paul for a long time now, and when I needed parts for my 1953 MG-YB Paul was very helpful. At some time the trafficator didn't work probably. EG. the left sign wasn't working automatically, the inner side switch worn out. So I asked Paul what to do, and his simple answer was "send it to me and I'll fix and repair it for you". So I did and after a couple of weeks I got the trafficator back, fully repaired. And look's like a OEM part.
Tony Knowles - UK: I appreciate all your comments. I got a replacement spring from Tony Slattery in Australia, but on fitting it, it became apparent that there was something else missing. I emailed Paul for advice on who might repair these switches. "Send it to me" he said.
Paul procured the missing parts, found a watchmaker and has returned it to me. What service!! I have thanked him privately, but feel I must do so publicly too - Thank you, Paul