Picture of the Month
July 2003
Here is this month's picture. We hope to update this feature with a fresh picture every month. Please email us your pictures to feature on this page. Ideally they should be of something special, a special location and your Y, an interesting close up shot of a lesser seen part of a Y that you think will be of help or interest to others, etc.
Please also send a couple of lines of text to go with the picture.


This month we have a wedding theme! On the left we have picture from Floyd Inman of Utah, USA, where Hyacinth. Floyd says "this couple saw her at the British Field Day held here in Salt Lake City, Utah. The bride just had to have the car for her wedding, and the rest is history. Imagine if you can, a bride in full gown climbing into the back of a 'Y'!".
On the right we have one from Ken Jones of Somerset, UK, where Agatha was used. Ken writes "Y2313 took 'pride of place' for transportation at my oldest son's wedding, Paul Jones, to his lovely partner Emma Miller on Friday 9th May 2003 at the village of Woolavington in Somerset. My youngest son (and best man) Steven also used his MGBGT on the day and the chief usher Andrew Miller used his MGF so a Mighty Good day was had by all!". Seems like some ideas do travel! I would hope that the main feature of the day was Paul and Emma, though Ken.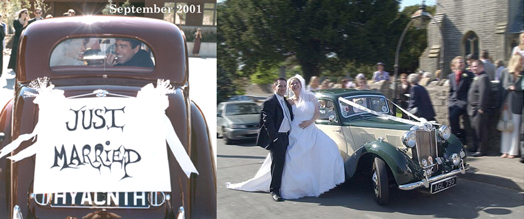 To view previous Pictures of the month, please click on the link below