Picture of the Month
April 2005
Here is this month's picture. We hope to update this feature with a fresh picture every month. Please email us your pictures to feature on this page. Ideally they should be of something special, a special location and your Y, an interesting close up shot of a lesser seen part of a Y that you think will be of help or interest to others, etc.
Please also send a couple of lines of text to go with the picture.

Phil Stafford's MG Y Type Special. A full report of this is available on his entry in Interesting Ys — Y 4608.
Phil says: "This photo was from the cars first EMR with the MGCC Victoria T register. I am standing to the right of the picture (half in frame) and the other guy is Aubrey Paverd a TC owner and T register Committee member. The photo was taken at Hanns Creek reserve on the Mornington peninsula south of Melbourne."
"My teenage daughter, who had been following the progress of the build christened the car 'Brum' after I had fitted the headlights exclaiming 'It looks just like Brum with those eyes Dad! Remember me learning to read with a Brum book!' hence the name."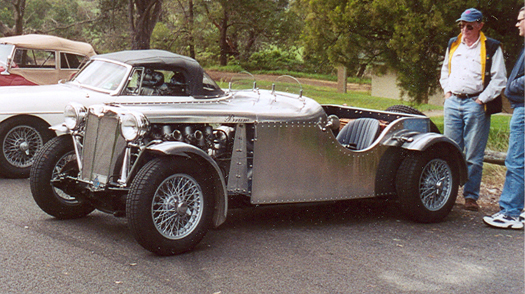 To view previous Pictures of the month, please click on the link below