Picture of the Month
September 2018
Here is this month's picture. We hope to update this feature with a fresh picture every month. Please email us your pictures to feature on this page. Ideally they should be of something special, a special location and your Y, an interesting close up shot of a lesser seen part of a Y that you think will be of help or interest to others, etc.
Please also send a couple of lines of text to go with the picture.

Adrian Lambert took this photograph of Tina and Robert Taylor's YB 0640 on 24th July, 2014 when a big event took place on Poole quay. The quay was one of many docks that the brave soldiers of D-Day embarked from. It was their bravery and enterprise that we were commemorating. But we had a few light moments too. Our intrepid photographer had brought along half a dozen young models, in period dress, to entertain the crowds with a fashion show. On seeing our then recently acquired car, Adrian asked permission to drape a model or two over it. So here is 'Jessica' upstaging the models. Enjoy. Oh and just a bye the bye, here's a link to the entire evening!
Robert Taylor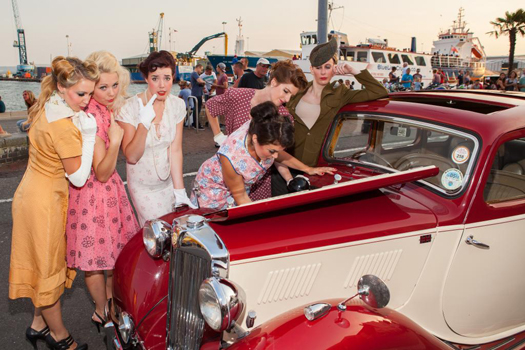 To view previous Pictures of the month, please click on the link below