Picture of the Month
May 2020
Here is this month's picture. We hope to update this feature with a fresh picture every month. Please email us your pictures to feature on this page. Ideally they should be of something special, a special location and your Y, an interesting close up shot of a lesser seen part of a Y that you think will be of help or interest to others, etc.
Please also send a couple of lines of text to go with the picture.

This photo was taken in 2012 at a rest spot on the Blue Ridge Parkway, I think in Virginia, USA. It shows brother Richard's YT , my class winning 1961 ex Sebring MGA Deluxe Coupe #44 and our friend Ray Mullins in his MGA 1600. This was on our epic 4,000 mile Tour from Key West (Florida) to New York (New York State). We has shipped the cars over for the Sebring MGA Reunion held at the Amelia Island Concours and at the 60th running of the Sebring race at Sebring. We has a great time and reunited my car and its sister #43 for the first time in 51 years.
Photo courtesy of Ian Prior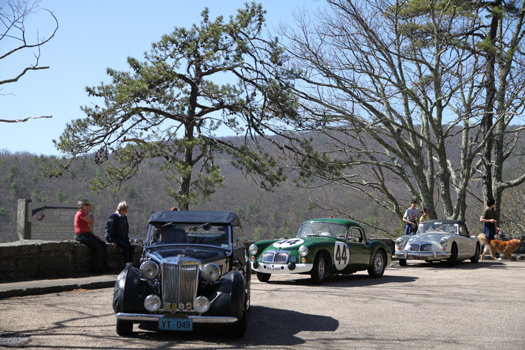 To view previous Pictures of the month, please click on the link below