(99kb) A letter to Sir Miles Thomas detailing sales early orders for the MG Y.
MG YT Factory Production Records ~ recreated
(1.8mb)A PDF file by David Pelham (updated 10 October 2018).
The Complete Manchester XPAG Files
by Paul Ireland
Register your MG Y Type with us
Register on line or download a form to email or fax your registration to us
Fractions to Decimals to Millimetres
A table to convert fractions of an inch into decimals and millimeters
A document reproduced here by kind permission of the Chiltern Vehicle Preservation Group
Look up modern supplier part numbers for your MG Y Type Parts needs
MG Service Department Service Sheet Amendments
by Gene Gillam
by John Lawson. This is a very useful cross reference on many Y/YT and YB parts and lists other cars that had the same parts.
Guide for Users of Historic Vehicles
by FIVA
A full back catalogue of Newsletters scanned from Safety Fast, from the first in 1992, to date.
A miscellany of resources and articles to help you decide on how to buy and what to look for.
(2.7 MB).
(3.12mb)
(11.16mb)
(241kb) A PDF by Tony Vernall.
A PDF file by Neil Cairns - Version 9.0. (1.3mb)
(310kb) A PDF file with an introduction by Neil Cairns of guarantee plates, chassis numbers and engine numbers, where this information is known.
Post War M.G. Saloon cars 1947 - 1999
(4.5mb including colour pictures) by Neil Cairns.

Radiator cap mascots
and Hood Ornaments
How different people decorate the front of their car.
As always, consult your local laws governing where you live please.
Details on the luggage straps that were available as a period optional extra.
Stories from the Rear view mirror
Historical research on individual cars by their owners.
Details of models of the MG Y Type.
Historical Timeline of Y history events and contemporary world news.
by Neil Cairns
by Jeremy Havard.
Terry Ciantar's original tool kit
Photographs by Terry Ciantar.
26 June 2009
Willem van der Veer sent in the last pictures of Y 4548 for Ys on Parade ... just before it was scrapped. A copy of the video has also been added to the "Y"s on film ... and other media page.
Webmaster

24 June 2009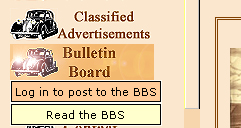 Following the latest spam posting on the BBS (Bulletin Board Service), it has now been agreed with Mike Plumstead and MGEnthusiast.com (who run this great service for us) that the BBS will be secured and you will need to have a registration and log-in as a member to post to the BBS from here onwards. We are sorry this has become necessary, but hopefully this will not dull your enthusiasm to post. You can use the "Log in to post to the BBS" to make this easier, once you have a membership established and your PC will use a "cookie" to remember your details by after you have put them in (if you check the box when you log in) the first time. All you will have to do subsequently is to put in the first letter of your chosen log in name and an auto-complete suggestion will drop down. Click on that and if you also chose "Remember the password" association that will complete for you too. If you forget your password, you will need to use the "Remind me" link.
Apologies for any inconvenience.
Webmaster

22 June 2009

Well, yesterday was the longest day, or for our friends in the Southern hemisphere, the Longest night! As I was browsing through some back number copies of the MG Abingdon Classics I came across a great little "Problem Solvers" diagnostic which has been converted into a PDF. Not all of it is 100% applicable to the Y Type, but much of it is, and it will be useful to any classic car owner for diagnostics. It has been added to the Technical Data page too. Hopefully you managed to get out in your Y to celebrate the longest day (or night!).
Webmaster

20 June 2009
The June edition of Safety Fast Newsletter is now available and is all about the restoration of Neil Cairn's MG YB.
Webmaster

16 June 2009
A quiet month ... so far! So to liven things up, here is this month's Reprinted Article, again from The Autocar, and shows you how to tour France for £35. Well, you could in 1951 anyway!
Webmaster

11 June 2009
Today, please welcome Mike Gilbert and Y 2687 to Ys on Parade.
For US owners who need re-sleeving of wheel cylinders or master cylinders or any such items, we have added White Post Restorations to the Links page following a recommendation by Scott Barrow.
Webmaster

1 June 2009
At the start of June, please welcome Alan Earp with Y 5696 to Ys on Parade.
This month's Reprinted Article comes The Autocar, April 20, 1954, is called "A buried Treasure" by Michael Brown.
The Picture of the Month is of Tony Bushell with Dick and Mary Knudson in Tony's YT in 1993.
Seven more pictures from the Dick Jacob's collection have also been posted to the Collectibles page - 2 of YB 0414.
Webmaster

Archive of previous News pages
Click on the hyperlinks below to see complete archive pages of the news from a previous month.