(99kb) A letter to Sir Miles Thomas detailing sales early orders for the MG Y.
MG YT Factory Production Records ~ recreated
(1.8mb)A PDF file by David Pelham (updated 10 October 2018).
The Complete Manchester XPAG Files
by Paul Ireland
Register your MG Y Type with us
Register on line or download a form to email or fax your registration to us
Fractions to Decimals to Millimetres
A table to convert fractions of an inch into decimals and millimeters
A document reproduced here by kind permission of the Chiltern Vehicle Preservation Group
Look up modern supplier part numbers for your MG Y Type Parts needs
MG Service Department Service Sheet Amendments
by Gene Gillam
by John Lawson. This is a very useful cross reference on many Y/YT and YB parts and lists other cars that had the same parts.
Guide for Users of Historic Vehicles
by FIVA
A full back catalogue of Newsletters scanned from Safety Fast, from the first in 1992, to date.
A miscellany of resources and articles to help you decide on how to buy and what to look for.
(2.7 MB).
(3.12mb)
(11.16mb)
(241kb) A PDF by Tony Vernall.
A PDF file by Neil Cairns - Version 9.0. (1.3mb)
(310kb) A PDF file with an introduction by Neil Cairns of guarantee plates, chassis numbers and engine numbers, where this information is known.
Post War M.G. Saloon cars 1947 - 1999
(4.5mb including colour pictures) by Neil Cairns.

Radiator cap mascots
and Hood Ornaments
How different people decorate the front of their car.
As always, consult your local laws governing where you live please.
Details on the luggage straps that were available as a period optional extra.
Stories from the Rear view mirror
Historical research on individual cars by their owners.
Details of models of the MG Y Type.
Historical Timeline of Y history events and contemporary world news.
by Neil Cairns
by Jeremy Havard.
Terry Ciantar's original tool kit
Photographs by Terry Ciantar.
29 July 2009
Andrew Coulson has filed reports on the Ripon Old Car event, and MG Silverstone weekends.
Webmaster

27 July 2009
Even more Flickr photographs have been added to the Flickr page today!!
Webmaster

26 July 2009
Following a recent posting on the BBS about veneering, a link to the previously featured Reprinted Articles from Safety Fast, June 1997, concerning veneering has also been added to the Hints and Tips page.
Webmaster

24 July 2009
New security features have been added to the BBS by Mike Plumstead that will encrypt email addresses so that spam crawlers will not be able to harvest email addresses from the page coding. This means that although you will be able to see and click on an email address such as webmast@mgytypes.org the actual code in the page is:
webmast@mgytypes.org which is total gibberish to spam crawlers. We hope that this will bring continued assurance of our intention to provide you with a safe and secure internet MG Y experience. You will therefore be safe to leave your full email address up there if you wish rather than putting it up cryptically (such as webmast @ mgytypes.org - without the spaces). Our thanks to Mike Plumstead for this.
Webmaster

23 July 2009
More Flickr photographs have been added to the Flickr page!
Webmaster

16 July 2009
Y 5492 has changed owners and is now back in The Netherlands having passed from father to son. It is always heartening to see the Y infection passing through the generations and not loosing any of its appeal! Well done Rob and Andrew and we wish Andrew much enjoYment from the car.
Webmaster

15 July 2009
Karl Heinz Boerchers has sent in a report on Sommertreff 2009. This has been added to the Events page and can also be downloaded here.
Peter Arnell, also had a surprise at Silverstone last weekend. David Pelham explains:
In March 2009, Peter Arnell passed on the role of Chairmanship of the MG Car Club Y Type Register to Peter Vielvoye, after eleven years of dedicated service. Peter has been an excellent ambassador, both for the Y Register and the MG Car Club. Peter and Suzie's Sun Bronze YB is in regular attendance at MG events and probably 'clocks up' more miles than most other Y Types.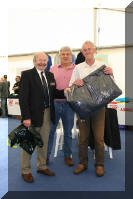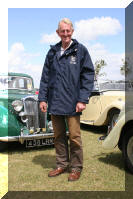 It was decided by the Committee to recognise Peter's contribution by presenting him with a Jacket (suitable for both Y & Triple M events — Peter also has a N Type) embroidered with a Y Type, the MG Car Club Logo and the words Chairman 1998 — 2009. David Pelham made a short speech on behalf of the Register thanking Peter for his contribution. This was followed by Bill Wallis, the President of the MG Car Club, who presented the Jacket to Peter and also thanked him for his hard work on behalf of the club.
Peter thanked all the committee for their work and support during his chairmanship and wished the Register success going forward.
Note: Under normal circumstances of a maximum term of five years office holding, this record eleven year stretch is likely not to be surpassed in the short term ... but we shall have to wait and see!
The mid-month Reprinted Article has also been added and is from Australia's Sports and Classic Cars magazine and it titled Y-Front the prim and proper MG. Enjoy!
Webmaster

6 July 2009
Based upon Y owner use and good service, Klassik Transmissions and sparkplugs.co.uk have been added to the Links page. Both are UK based, but are able to supply worldwide.
Webmaster

2 July 2009
Today, please welcome John Longridge, the new owner of Y 7207 to Ys on Parade.
Webmaster

1 July 2009
The Reprinted Article comes Safety Fast, February 1992, is called "Driving a Y-Type Amsterdam - Moscow - Amsterdam" and is by Chris Backlund. His Y (Y 6918) can be seen on Ys on Parade coming into Red Square, Moscow, Russia.
The Picture of the Month is supplied by Charles Inman, Heber City, Utah, USA.
Six further pictures from the Dick Jacob's collection have also been posted to the Collectibles page!
Webmaster

Archive of previous News pages
Click on the hyperlinks below to see complete archive pages of the news from a previous month.