(99kb) A letter to Sir Miles Thomas detailing sales early orders for the MG Y.
MG YT Factory Production Records ~ recreated
(1.8mb)A PDF file by David Pelham (updated 10 October 2018).
The Complete Manchester XPAG Files
by Paul Ireland
Register your MG Y Type with us
Register on line or download a form to email or fax your registration to us
Fractions to Decimals to Millimetres
A table to convert fractions of an inch into decimals and millimeters
A document reproduced here by kind permission of the Chiltern Vehicle Preservation Group
Look up modern supplier part numbers for your MG Y Type Parts needs
MG Service Department Service Sheet Amendments
by Gene Gillam
by John Lawson. This is a very useful cross reference on many Y/YT and YB parts and lists other cars that had the same parts.
Guide for Users of Historic Vehicles
by FIVA
A full back catalogue of Newsletters scanned from Safety Fast, from the first in 1992, to date.
A miscellany of resources and articles to help you decide on how to buy and what to look for.
(2.7 MB).
(3.12mb)
(11.16mb)
(241kb) A PDF by Tony Vernall.
A PDF file by Neil Cairns - Version 9.0. (1.3mb)
(310kb) A PDF file with an introduction by Neil Cairns of guarantee plates, chassis numbers and engine numbers, where this information is known.
Post War M.G. Saloon cars 1947 - 1999
(4.5mb including colour pictures) by Neil Cairns.

Radiator cap mascots
and Hood Ornaments
How different people decorate the front of their car.
As always, consult your local laws governing where you live please.
Details on the luggage straps that were available as a period optional extra.
Stories from the Rear view mirror
Historical research on individual cars by their owners.
Details of models of the MG Y Type.
Historical Timeline of Y history events and contemporary world news.
by Neil Cairns
by Jeremy Havard.
Terry Ciantar's original tool kit
Photographs by Terry Ciantar.
27 February 2022
A new tip has been added courtesy of Ian Thomson on Fitting flashers along with LED bulbs. It is a lengthy article and there is a PDF version available at the end of the tip.
Webmaster

26 February 2022
Four new articles on SU Carburettors has been added to the knowledge base on our Technical Data page today!
Also, a new link to the UK supplierThe Distributor Doctor has also been added.
Webmaster

22 February 2022
A new Snippet has been uploaded today! Thank you Andrew Tanner for identifying the car in the front of the picture too.
Webmaster

17 February 2022
A little late this month and my apologies for that but the Mid month Reprinted Article has been uploaded. This month's contribution comes from the New Zealand and is a short article that was included in the in house magazine Protec of Protec Paints.
Webmaster

14 February 2022
Today, please welcome Geoffrey Collett with Y 0879 to Ys on Parade.
Webmaster

11 February 2022
Karl Heinz-Borchers recently sent me a copy of a new technical booklet covering the Technical Information Construction Operation and Service Instructions for Girling Hydraulic Dampers. This has now been added to the site and should be very helpful to anyone wanting to maintain their dampers.
Webmaster

8 February 2022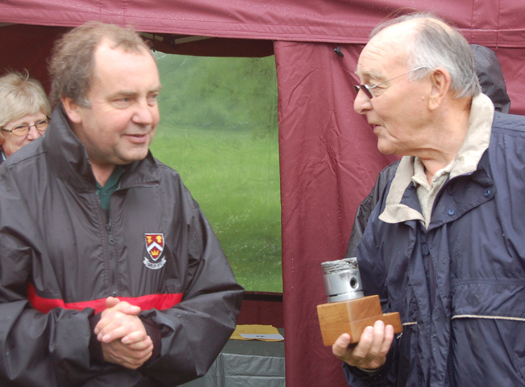 It is with great saddness that I inform you all of the death of Jerry Birkbeck. I have no better word than to use those of Peter Vielvoye:
"JERRY BIRKBECK. I am sure you will all be very sad hear that Jerry lost his battle with cancer and died over the weekend. Jo tells me that he died a happy man with his family. A lovely man who will be greatly missed."
Jerry brought much joy to many through his tireless involvement in the classic MG world. No where else was this more evident than all the effort he put in over the years to furthering the use and enjoyment of the MG Y Type through his involvement in the register and also through the wonderful Spring Runs he put on. Perhaps his memory can be honored going forward by renaming these in the future as The Birkbeck Spring Run?
Jerry was also the scribe of bi-annular the MG Car Club Newsletter for eleven years from June 2011 to December 2021.
Our deepest condolences go out to his wife Jo at this time.
Webmaster

7 February 2022
Today please welcome Carlos Costa with Y 2456 to Ys on Parade.
Another new bonnet ornament has been added today too.
Webmaster

6 February 2022
A new bonnet ornament has been added for YB 1299.
Webmaster

5 February 2022
Tony Slattery has released the Provisional timetable for a fun filled Australian celebration of the 75th birthday of the MG Y. I am looking forward to be there! If you are, then please check in with Tony now. There is also a link on the Events page.
Webmaster

1 February 2022
This month's Picture of the Month again comes from Charles Wiggins and shows off the lovely cockpit of his Y/T.
Webmaster

Archive of previous News pages
Click on the hyperlinks below to see complete archive pages of the news from a previous month.