(99kb) A letter to Sir Miles Thomas detailing sales early orders for the MG Y.
MG YT Factory Production Records ~ recreated
(1.8mb)A PDF file by David Pelham (updated 10 October 2018).
The Complete Manchester XPAG Files
by Paul Ireland
Register your MG Y Type with us
Register on line or download a form to email or fax your registration to us
Fractions to Decimals to Millimetres
A table to convert fractions of an inch into decimals and millimeters
A document reproduced here by kind permission of the Chiltern Vehicle Preservation Group
Look up modern supplier part numbers for your MG Y Type Parts needs
MG Service Department Service Sheet Amendments
by Gene Gillam
by John Lawson. This is a very useful cross reference on many Y/YT and YB parts and lists other cars that had the same parts.
Guide for Users of Historic Vehicles
by FIVA
A full back catalogue of Newsletters scanned from Safety Fast, from the first in 1992, to date.
A miscellany of resources and articles to help you decide on how to buy and what to look for.
(2.7 MB).
(3.12mb)
(11.16mb)
(241kb) A PDF by Tony Vernall.
A PDF file by Neil Cairns - Version 9.0. (1.3mb)
(310kb) A PDF file with an introduction by Neil Cairns of guarantee plates, chassis numbers and engine numbers, where this information is known.
Post War M.G. Saloon cars 1947 - 1999
(4.5mb including colour pictures) by Neil Cairns.

Radiator cap mascots
and Hood Ornaments
How different people decorate the front of their car.
As always, consult your local laws governing where you live please.
Details on the luggage straps that were available as a period optional extra.
Stories from the Rear view mirror
Historical research on individual cars by their owners.
Details of models of the MG Y Type.
Historical Timeline of Y history events and contemporary world news.
by Neil Cairns
by Jeremy Havard.
Terry Ciantar's original tool kit
Photographs by Terry Ciantar.
26 October 2005
Geoffrey Pace has provided an update to the text on Y 0865 for Ys on Parade. The car sounds lovely so when you can please Geoffrey can you send in a new photo too please so we can all see how lovely she has turned out? Thanks
Also, if any one is interested, I have been asked by the organisers of a tour of Sweden and Norway to publicise their tour. It is from May 18 - June 1 2006. Entry is restricted to the first 50 cars so if you are interested in taking your Y - please call Ian on +44 (0)1824 790280 or email him here for more details. Of course if you go, there will be some stunning scenery and it would make for a very interesting report on the site too so take your camera please!
Webmaster

25 October 2005
Brian and Christine Calder have sent in a new photograph of Y 3095 for Ys on Parade.
Webmaster

24 October 2005
A while ago the two of three of the original artworks as used in the Autocar's review of the MG Y dated 9 May 1947 was acquired. At the time an interest was expressed by some owners for a copy of these. They are now available on the Reprinted Articles page.
Webmaster

21 October 2005
Today, please welcome Ian Thomas and YT 4714 to Ys on Parade.
Webmaster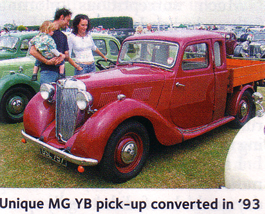 19 October 2005
Flicking through the Classic and Sports Car Magazine for October 2005, there is a report on pages 164 - 165 on the MG Car Club Silverstone meeting earlier this year. Although the editor missed a fantastic opportunity to comment on the fabulous turn out of lovely MG Y Types there in his commentary, he did at least take this picture, and print it, of Andrew Coulson's MG YB pick up conversion. You can read more about this car here, and you can read more about the Silverstone Weekend - with a special emphasis on Y Types here.
Webmaster

18 October 2005
A new technical advice note on Brake shoe liner replacement has been added to the Technical Advice page.
Webmaster

16 October 2005
It's time for the mid-month magazine Reproduced Article, and for those of you who were wondering what the German article released earlier this month said, now is your chance to find out.
Webmaster

8 October 2005
Remember the rally going MG YB from Holland on Interesting Ys? We have some more information on it from the owners so check it out again. Hopefully sometime we will be able to add more to the detail of this amazing car.
It is a year since the last update to the YT Factory Production Records. Total Cars identified as 'Confirmed Survivors' is now 163, that's 13 more than last year. Only two of these were on the thought to have survived, the other 11 are new. A new YT Factory Production Records file has been supplied by David Pelham and is now available for downloading.
Webmaster

6 October 2005
Mike Lyons has sent in an update to the photograph and description of his Y 6594. The article Mike refers to will be published in January 2006 on this website under our Reprinted Articles page.
Webmaster

5 October 2005
Please welcome Graham Loader and Y 1201 to Ys on Parade.
Webmaster

3 October 2005
Pat Keily used to have an MG YB back in the 1960's and would like to know what happened to the car. The car is not currently known of on our database so we have added it to the Lost Ys page. If you can help, please contact the Registrar who will pass on your details.
Webmaster

1 October 2005
84 more days to Christmas - perish the thought!
Jumping straight in this month is Tony Stock with another great picture onYs at Weddings - with 2 YTs!
Also, a new Picture of the Month for your enjoyment. Continuing from last month, we have another foreign language article again from an article in a German magazine Reprinted Articles! The English translation will come in a few weeks time, so watch out!
As an interesting aside, since we began offering Technical Assistance through the Technical Advice page (available from the Menu under Technical Centre) the information contained and available from our site is now so great that owners of other MG models, and indeed other makes too, are referencing it on a regular basis!
Webmaster

Archive of previous News pages
Click on the hyperlinks below to see complete archive pages of the news from a previous month.